[vc_icon_tabs tabs_position="left" tab_contid="500341611″ font_color="#768e9d" font_hover_color="#a1c8e0″ active_tab_font_color="#a1c8e0″ border_color="#768e9d" border_width="1″ background_color="#f5f6f6″ hover_color="#f5f6f6″ active_tab_color="#F5F6F6″][vc_icon_tab title="Overview" tab_id="1448998142-1-49″]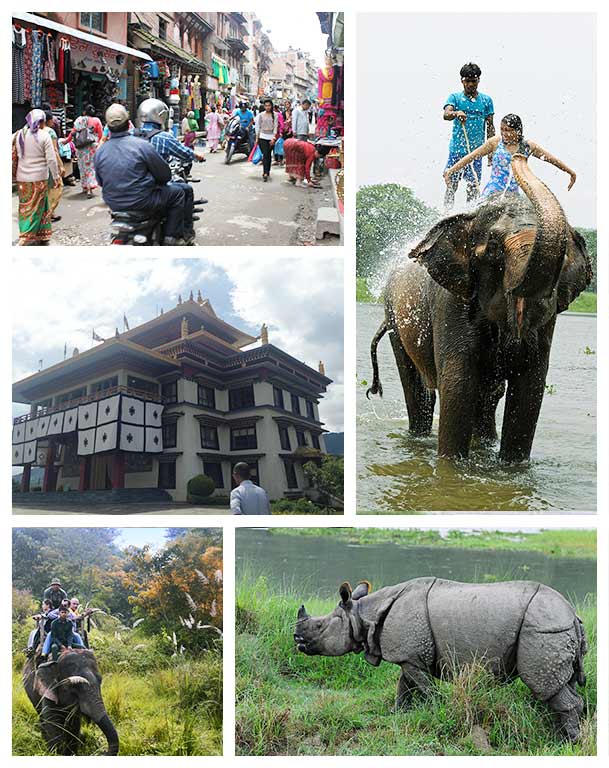 Once considered as mystical and inaccessible as Hilton's Shangri-La, this landlocked country of valleys and peaks has attracted an astounding number of visitors for decades. From the endorsers of 'Flower Power' in the hedonistic 60s to the daring adventure traveler to the luxury traveler, Nepal has catered to the diverse needs of visitors in its own inimitable way.
Beyond Kathmandu, the smaller towns are spectacular in their own right. The natural scenic beauty of Pokhara and Dhulikhel is complemented by views of the most incredible sunrises and sunsets. Bhaktapur is a devotee's delight with its ancient temples built in the medieval style. Trekking will take you to villages and local life and spectacular views of the Annapurna range.
With every booking, a donation will be made to rebuild Saraswati Secondary School, damaged during the 7.8 Richter scale Earthquake that struck Nepal on April 25, 2015. Saraswati Secondary School is located in Dhulikhel, 30 km east of Kathmandu and offered education to the local students. Damaged extensively during the natural disaster, the funds will help to rebuild the school's two-room structure, with help from Nepal's own socially and environmentally conscious research, design, and construction firm, Abari.
Highlights
This itinerary offers an exciting immersion into Nepal with many highlights:
Visit the fascinating city of Kathmandu full of historic temples, shrines and pagodas. Kathmandu Valley has seven UNESCO World Heritage Sites.
Visit Patan known for its cultural heritage and its arts and crafts.
Visit Nepal's living goddess, Kumari, in Patan
Take an early one hour mountain flight to view Mt. Everest from the plane
Spend a morning with famous pottery artisans in Thimi
Visit Bhaktapur, a living museum of Nepalese wood and stone craftsmanship
Visit Royal Chitwan National Park and take an elephant safari to look for the one horned rhino and other animals including 350 species of birds.
Jungle hike, bird watching, elephant bathing and canoeing in Chitwan National Park
Enjoy a cultural dance performance of the Tharu community in Chitwan
Visit Bandipur, a living museum of Newari culture, with views of Annapurna and Manaslu mountains
Trek from Pokhara to Tomijing to Dhampus with great views of the Annapurna mountain range with a 2 night stay in Ker & Downey Lodges
Visit the Tibetan village in Hemja, visit a monastery and meet with a monk
Visit Gurkha Memorial Museum, a museum dedicated to the Gurkhas and understanding the mountains and its people
Visit Pharping, a hillside town outside Kathmandu with Buddhist monasteries.
Stay at Neydo Monastery Guest House
[/vc_icon_tab][vc_icon_tab title="Itinerary" tab_id="1448998142-2-98″]
Day 1: ARRIVE KATHMANDU
Arrive Kathmandu airport and transfer to the hotel
Afternoon explore Boudhanath Stupa and Pashupatinath temple
Witness evening prayer ceremony on the banks of Bagmati river
Dinner at Krishnarpan restaurant
Overnight stay at Dwarika's
Arrive Tribhuvan International Airport. Our representative will meet you outside the arrival area and greet you by offering a Khada (A traditional ceremonial scarf common in the Buddhist culture. It symbolizes purity and compassion.) Transfer for your heritage stay at Dwarika. Described by many as a 'living museum' and a pioneering example of sustainable tourism, a stay at Dwarika is an experience to savor.
In the afternoon visit two of the most important heritage sites of Kathmandu: Boudhanath Stupa and Pashupatinath.
Starting with the Boudhanath Stupa (a UNESCO World Heritage site), the 2500 year old Buddhist stupa in the valley was built in the 5th century with four pairs of eyes of Lord Buddha in four cardinal directions keeping an eternal watch over the people and their doings. With a base of 82 meters in diameter, Boudhnath is claimed to be the largest Buddhist stupa in the world.
Visit a Thangka Gallery to gain insight into the Buddhist Art of Thangka paintings.
Continue on to Pashupatinath in time to witness "Sandhya Aarati", evening prayer performed by Hindu priests from across the riverbank. Pashupatinath Temple (a UNESCO World Heritage site), the two-tiered pagoda with golden roofs and silver doors houses the sacred linga, or phallic symbol of Lord Shiva. Entrance to the main temple is permitted to Hindus only, yet visitors can clearly see the temple and the activities performed on the temple premises from the eastern bank of the Bagmati River and the Arya Ghat cremation grounds. (We strongly advise not to take photos of cremations and of bereaved families. Sadhus, sages who follow the lifestyle of Shiva, may be seen covered in ashes and loincloths.)
Your dinner tonight is at Krishnarpan that specializes in traditional Nepalese cuisine.
Hotel: Dwarika, Heritage Deluxe Room (D)
Day 2: Kathmandu
Breakfast at the hotel
Morning explore Patan Durbar Square
Lunch at The Inn in Patan
Afternoon explore Kathmandu Durbar Square
Rickshaw ride in Thamel
Dinner at Garden of Dreams
Overnight stay at Dwarika's
Breakfast at hotel
Today you will discover what it was like to live in towns in medieval times. You will cover two ancient kingdoms of Kathmandu valley, Kathmandu Durbar Square and Patan Durbar Square from the time of the Malla Dynasty.
Patan, also known as 'Lalitpur', the city of artisans, and home to the valley's finest craftsmen who have preserved such ancient techniques as the repoussé and lost wax process used to produce exquisite sculptures. The city retains much of the old charm with its narrow streets, brick houses and multitude of well-preserved Hindu temples, Buddhist monasteries (vihars) and monuments. As in Kathmandu, Hinduism and Buddhism have co-existed here for ages, influencing each other, and the religious harmony is exemplary. Patan Durbar square is one of the seven monument zones that make up Kathmandu valley's UNESCO World Heritage sites.
You will visit Nepal's living goddess Kumari in Patan. The word Kumari literally means "virgin" in Nepali. These living goddesses are young, pre-pubescent girls who are worshipped in Nepal by both Hindus and Buddhists as an omnipotent deity and the manifestation of the Hindu goddess of power, Durga. They live a sheltered life until they reach puberty.
Today's lunch is at The Inn Patan, a restored brick and timber Newari residence.
Your next stop is Kathmandu's central meeting area, Durbar Square, a profusion of temples reflecting the different architectural styles dating from the eleventh century. The area also includes the Royal Palace with its gilded gates and elaborate statues, all of which are UNESCO World Heritage sites.
Later you will embark an exhilarating rickshaw ride from Hanuman Dhoka to Thamel through narrow alleys and observe local life from close range. You will have some free time to stroll around.
Your dinner tonight is at Garden of Dreams, a neo classical historical garden in Thamel.
Hotel: Heritage Deluxe Room (B, L, D)
Day 3: Thimi – Bhaktapur
Early morning mountain flight
Breakfast at the hotel
Morning explore the potters village at Thimi
Lunch at an organic farm
Afternoon explore Bhaktapur
Overnight stay at Dwarika's
Take an early morning flight to view Mount Everest. Afterwards, return to the hotel for breakfast.
(The Mountain flight takes-off from Kathmandu airport in the morning for an hour's worth of spectacular mountain scenery)
After breakfast, you will set off to Thimi, the best-known pottery village in Nepal situated 8 km east of Kathmandu on the way to Bhaktapur. Exquisite temples and other religious shrines dot its streets. It is known for its artistic masks and earthen pots, often seen spread out on the streets to dry in the sun. Much of Thimi remains distinctly traditional. However, some of the workshops in the community have begun using modern methods.
You will visit Thimi Ceramics, one of the pioneering pottery workshops founded in 1985 by Santa Bahadur Prajapati and his two sons. You will spend a morning with the artisans, learning about this skill and also getting your hands dirty. Later your creations will be glazed and fired and given back to you as souvenirs.
Lunch will be provided at Khwapa Chen in Bhaktapur.
After lunch, you proceed to Bhaktapur, "city of devotees" in Nepali. The city retains much of its medieval charm and way of living and houses some of the best examples of Nepalese craftsmanship on wood and stone. Considered a living museum you can witness ancient traditions carried out even today in Potters Square where the local potters use age-old techniques to make clay utensils. Bhaktapur Durbar square is one of the seven monument zones that makes Kathmandu valley a UNESCO World Heritage site.
Hotel: Dwarika, Heritage Deluxe Room (B, L)
Day 4
Breakfast at the hotel
Morning fly to Bharatpur
Lunch at the lodge
Afternoon enjoy elephant safari at Chitwan national park
Evening enjoy a cultural dance performance of the Tharu community
Dinner and overnight stay at Barahi Jungle Lodge
After breakfast, you will take a short domestic flight to Bharatpur (20 minute), the gateway to Chitwan National Park. Arrive Bharatpur and transfer to Chitwan Jungle Lodge (1h30 drive).
Barahi Jungle Lodge is situated at a distance of 32 km from Bharatpur. Accommodations at the lodge are in stand alone cottages that mirror elements of traditional Tharu culture.
Chitwan National Park lies in the Inner Terai lowlands and consists of Sal forests, tall elephant grasslands, hills, ox-box lakes and flood plains of the Narayani, Rapti and Reu rivers. Enlisted as a UNESCO World Heritage Site (Natural) in 1984, the park spreads over an area of 932 sq.km. The park is home to 56 species of mammals, 49 species of amphibians and reptiles and over 350 species of birds.
In the afternoon, you will take an Elephant safari that remains a popular jungle activity in the Chitwan National park. Every elephant has a 'Mahout,' who serves as the animal's caretakers, trainer and 'driver.' On the safari, the Mahout leads the elephant on a journey to seek out the forest's wild animals in their natural setting. You may be lucky to go home with photographic proof of the prized one horned rhino. For those who do not want to ride an elephant, a 4×4 Jeep Safari is another option to see the forest from closer to the ground. An experienced guide and naturalist will accompany the safari.
(Note: Jeep Safari is prohibited during monsoon season by the park authorities from June-September and in some season it can prolong until October)
In the evening, experience the vibrant traditional cultural performances of the Tharu community. The performances depict their culture and the significance of their wardrobes in relation to their environment.
Hotel: Barahi Jungle Lodge, Boutique Guest Room (B, L, D)
Day 5: Chitwan
Early morning, guided walk through the national park
Return to the lodge for breakfast
Full day explore the jungle with a naturalist
Evening, enjoy sundowner at the confluence of Rapti river
Lunch, dinner and overnight stay at Barahi Jungle Lodge
Early morning visit the Jungle to refresh your spirit of adventure on a guided walk through the national park, returning to the lodge in time for breakfast.
You will follow a full day true jungle experience with the in-house expert naturalists to include bird watching, elephant bathing and canoeing. You will also visit the small village of Tharu, an ethnic group, to gain a sense of what their world and lives are like through interactions with the locals.
A special sundowner can be had at the confluence of the Rapti River with spectacular sunset views.
Hotel: Barahi Jungle Lodge, Boutique Guest Room (B, L, D)
Day 6
Chitwan – Bandipur (85 km/ 4 hours)
Breakfast at the lodge
Drive to Bandipur and check in for your stay
Afternoon explore Bandipur
Lunch, dinner and overnight stay at Gaun Ghar
After breakfast, you are driven to the quaint village of Bandipur and upon arrival check into Gaun Ghar (village house), an old newari traditional house that has been restored into a heritage hotel.
Bandipur lies on the midway between Kathmandu and Pokhara. It is a picturesque Newar town that still retains much of its centuries old appeal. Bandipur was once a prosperous trading stop on the India – Tibet trade route. The charming buildings with neoclassical facades reflect its refined past.
After lunch at the hotel, you will explore the old Newari town of Bandipur and enjoy the beauty of local lifestyles, tradition and cultural atmosphere with Himalayan views of Annapurna and Manaslu.
Hotel: Gaun Ghar, Standard Non AC Room (B, L, D)
Day 7: Bandipur – Pokhara – Tomijing (115 km/ 4 hour)
TREK TO TOMIJING (MAJGAON)
Walking involved 1h30
Level Easy
Altitude 1610 – 1395 m
Breakfast at the hotel
Drive to Pokhara and trek to Tomijing
Lunch at the lodge
Afternoon optional hike to Tanchok
Dinner and overnight stay at Mala Lodge
After breakfast, board the awaiting vehicle for your trip to the upper hills of Western Nepal. Your trekking guide joins you as you arrive in Pokhara. You will drive further 35 km to reach the trek point.
This trek contours the side of the hill with small ups and downs passing through villages and farmland. There will be plenty of stops along the way to photograph the breathtaking panoramas of Annapurna. Trek time to the lodge is about 1h30 as you reach Mala Lodge for lunch. The lodge is situated in the lap of the Annapurna lowlands amongst rice terraces and a quaint bee keeping village.
After lunch, you may choose to do a hike to the nearby village of Tanchok, where there is a traditional house now made into a museum. The contents of the house illustrate how the local people live, together with the tools and implements of day-to-day traditional village life.
Hotel: Mala Lodge (Ker & Downey Lodge), Standard NonAC (B, L, D)
Day 8: Tomijing (Majgaon) – Dhampus by trek
Walking involved 4 h
Level Moderate
Altitude 1395 – 1525 m
Breakfast at the hotel
Trek to Dhampus
Lunch at the Lodge
Afternoon optional walk to Dhampus village
Dinner and overnight at stay at Basanta Lodge
After breakfast, start out trekking through the unspoilt village of Patlekhet. The walk then takes you through sub-tropical forests that include tree orchids, rhododendrons and magnolias. After about 4 hours, you will arrive at the Basanta Lodge. After lunch at the lodge there will be an optional walk through the old village of Dhampus. From the lodge, there are sweeping views of the entire Annapurna Range.
Hotel: Basanta Lodge (Ker & Downey Lodge), Standard NonAC (B, L, D)
Day 9: Dhampus – Pokhara
Walking involved: 1 h 30 min
Level Moderate
Driving distance 23 km
Drive time: 45 min
Breakfast at the lodge
Drive to Pokhara
Enroute stop at the Tibetan village in Hemja
Lunch at the hotel
Afternoon is at your leisure
Dinner and overnight stay at The Pavilions Himalaya
After breakfast depart along the ridge and descend through the wooded hillside and terraced farmland to the valley floor (3300ft/1000m). Your car will be waiting for you to transfer you to Pokhara.
Along the way you will stop and visit the Tibetan village in Hemja. Here you will visit the monastery where you will meet one of the monks who will show you around and explain the symbols and significances of the Tibetan religion. You will have a chance to enjoy interacting with locals over a cup of tea.
Reach The Pavillion Himalaya resort in time for lunch. The villa resort is spread out over organic farmland and features spectacular mountain views.
Remainder of the afternoon is at your leisure. There is no shortage of activities at the resort from bird watching, short trekking and experiencing a working farm. Alternatively, take time off to enjoy their spa.
Pokhara is the third largest city in Nepal, located 200km to the west of Kathmandu. Three out of the ten highest mountains in the world, including the renowned Annapurna are within 30 miles of the city, making it Nepal's top trekking destination. It is an ideal place to relax, take walks in the surrounding hills, or engage in the more energetic pursuits of trekking or white-water rafting.
Hotel: The Pavilion Himalaya, Classic Room (B, L, D)
Day 10: Pokhara
Early morning visit World Peace Pagoda
Breakfast at a local restaurant
Boat ride on Phewa Lake
Visit Gurkha Memorial Museum and International Mountain Museum
Afternoon is at leisure
Dinner and overnight stay at The Pavilions Himalaya
Set off early this morning to visit the World Peace Pagoda. The pagoda is a massive Buddhist stupa and is situated on top of a hill on the southern shore of Phewa lake. Besides being an impressive sight in itself, the shrine is a great vantage point that offers spectacular views of the Annapurna range and Pokhara city. There are three paths up to the pagoda and several small cafes once you arrive.
From here you walk for about 20 minutes to a nearby retreat for a delicious breakfast amidst a splendid view of the Himalayan range, Phewa Lake and Pokhara valley. Continue on past the pagoda to the main road and onto the lakeside. Once there, take a rowing boat ride on Phewa Lake, the largest and most enchanting of the three lakes that add to the resplendence of Pokhara.
You will have some free time at the hotel before visiting the Gurkha Memorial Museum, a noble undertaking to conserve and promote the gallant history of the famous Gurkhas and towards promoting the understanding of the mountains, its people and culture, flora, fauna and the proud mountaineering history. Established by the Nepal Mountaineering Association (NMA), it is supported by various international and national groups.
Remainder of the afternoon is at leisure.
Hotel: The Pavilion Himalaya, Classic Room (B, D)
Day 11: Pokhara – Kathmandu – Pharping
Breakfast at the hotel
Morning fly to Kathmandu (30 minute flight)
Arrive Kathmandu and drive to Pharping (45 minutes)
Afternoon explore Pharping
Lunch, dinner and overnight stay at Neydo Monastery Guest House
After breakfast take a short flight to Kathmandu. On arrival, assisted transfer to Pharping, a lush hillside outside Kathmandu with Buddhist monasteries and check into Neydo Monastery Guest House, the Buddhist monastery hotel, in the most peaceful location alongside Neydo Tashi Choeling Monastery.
Pharping's main attraction is an elaborate 17th-century temple that houses a glided image of Goddess Bajra Jogini. Other fascinating sights here include a cave and a hand-imprint of the Buddhist Saint Padmasambhav on the rock face over its entrance.
The Neydo Monastery is purposely situated close to the Asura cave where Padmasambhava or Guru Rinpoche, as he is affectionately known meditated and achieved the highest realization. It is an ideal place to simply relax and unwind.
Hotel: Pharping Neydo Monastery Guest House, Standard Non AC (B, L, D)
Day 12: PHARPING – GOKARNA (30 KM/ 2 HOUR)
Morning visit Dakshinkali Temple
Return to the guest house for Breakfast
Drive to Gokarna
Afternoon at your leisure
Dinner and overnight stay at Gokarna Forest Resort
Visit Dakshinkali Temple this morning, located 4 km south of Pharping on the valley rim. The temple is dedicated to the Hindu goddess Kali. The shrine is especially crowded on Tuesdays and Saturdays when animal sacrifices are offered to the deity. The Bodhisatva Manjushree is said to have cut an incision here to drain out the lake that once covered the valley. There is a small but picturesque temple of Adinath on the top of a hill from where one can have a panoramic view of the snow-capped mountains.
You will return to the monastery for breakfast and later transfer to Gokarna Forest Resort situated within the city limits of Kathmandu inside the serene temperate Gokarna Forest and is the former private Royal hunting grounds of the Royals of Nepal. The Golf Resort course is stunningly set within 470 acres of the Gokarna Forest Reserve. Designed by David Kidd (Gleneagles Golf Developments of Scotland), the 6,715 yard par 72 course boasts the only bent grass greens on an 18 hole course in South Asia.
Remainder of the day is at your leisure to enjoy the surrounds of the resort.
Hotel: Gokarna Forest Resort, Deluxe Room (B, D)
Day 13: GOKARNA
Breakfast at the resort
Day at leisure
Dinner and overnight stay at Gokarna Forest Resort
Today is at your leisure to pursue independent activities.
Enjoy a game of golf or go horse riding, spa treatments, forest walks, jungle paint ball games, bird watching, cycling, driving range practice or a cart tour. There is so much to enjoy here, or simply enjoy doing nothing at all while relaxing in the natural harmony of the place.
Hotel: Gokarna Forest Resort, Deluxe Room (B, D)
Day 14: DEPARTURE 
Breakfast at the hotel
Assisted transfer to Kathmandu airport
Assisted transfer to the airport to connect your flight home
[/vc_icon_tab][vc_icon_tab title="Inclusions" tab_id="1448998430412-2-7″]
Quote Includes:
Accommodation for 3 nights at Dwarikas, Kathmandu on Bed & Breakfast Basis.
Accommodation for 2 nights at Barahi Jungle Lodge, Chitwan on Jungle Plan with all jungle activities, National park fees
Accommodation for 1 night at hotel Gaun Ghar, Bandipur on full board basis
2 Nights/3 Days trekking with accommodations using Ker & Downey Lodges at Mala & Basanta, guide, porter (2 guests: 1 porter and the weight limit is 20 kg per porter), trek pack including loan of duffel bag, day pack, walking stick, poncho, water bottle, souvenir hat, scarf, accommodations, 3 meals, drinks at happy hour between 6pm and 7pm (local drinks), tea, coffee, drinking water.
Accommodation for 2 nights at The Pavilions Himalaya, Pokhara using Classic room.
Accommodation for 1 night at Hotel Neydo, Pharping
Accommodation for 2 nights at hotel Gokarna Forest Resort, Kathmandu
Private Vehicle with Driver as per the itinerary
English Speaking local guide in Kathmandu and Pokhara for sightseeing tours, trek guide during trekking and at Chitwan, English Speaking naturalist will be provided during Jungle Activities.
Monument entrance fee as per the itinerary
Meals where mentioned in the program.
Packaged drinking water throughout
Quote Does Not Include:
Visa Fees
Tips, Laundry, Telephone call etc.
Insurance of any nature
Anything which is not mentioned in the inclusions
[/vc_icon_tab][/vc_icon_tabs]