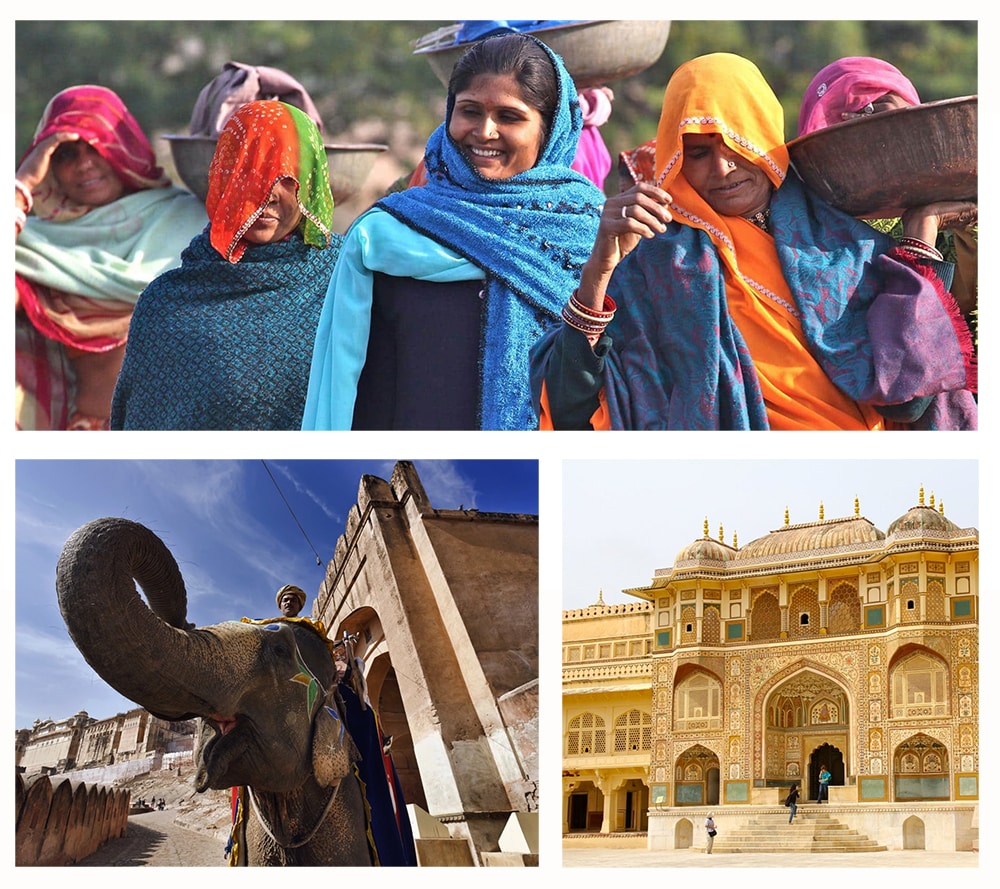 With a passion for cultural authenticity, and a unique angle to travel, I am excited to introduce our expertly curated, discovery packed itinerary exclusively for women. This journey, planned to coincide with Holi is a unique blend of local life, genuine encounters and exposure to arts, crafts & interactive participation.
-Susan Geringer, Owner of Geringer Global Travel
Day 1: Friday, February 23, 2018
Arrive into Delhi, Stepping Stone to North India
Land into the capital city! Widely known for being young, edgy and historic, Delhi is a city of contradictions, a crossroads of cultures, times, peoples and worlds. This character driven capital has so many diverse neighborhoods, each filled with personality and local finds. Its beauty doesn't only come from incredible monuments, but also from small backstreets, colorful houses, and corners drenched in centuries of history.  One part of the city is more advanced with high – rise towers, an upbeat city life, and a blossoming culinary and contemporary art scene while another part is packed with an ancient yet vibrant art, beautifully preserved architecture, and a rich history.
Hotel: The Claridges, Deluxe rooms
Day 2: Saturday, February 24, 2018
Delhi
Take in a Dose of History and a Dollop of Contemporary Culture
To get our adventure off to the right start, we have a welcome breakfast planned.
So, for the day, we've planned a perfect mix of both worlds; some new hip places and some beloved old favorites to see relics of a feminist past, and to witness the stories behind several of Delhi's heritage landmarks featuring powerful women.
We'll begin the city's exploration with Old Delhi. Oozing with charm, the popularity of Old Delhi is no secret. It's a maze of eclectic medieval streets, a delightful combination of beautiful architecture, vibrant colors, as well as the Ladies Market and streets selling weird and wonderful delights. It's easy to get lost in this labyrinth of streets and markets here, but that's the beauty of the area. For those who love to cook, we will stop at a spice shop that has their wares in commercial packaging so that you can bring them back home if you wish. 
Next is the Crafts museum. Let's go inside and take a look into its arts, paintings and vintage collection. It's a mass merge of all things arty that make it a great stop and perfect for those who like to saunter in art galleries, understand art and its nuances, or like to know the inspirations behind works of art.
It is followed by an indulgent lunch stop in the museum's quaint and artsy café, Café Lota, perfecting a contemporary take on regional Indian dishes.
After lunch, and before some shopping, let's continue our way to Humayun's Tomb and understand the role of woman in shaping India's Mughal history.  Humayun's Tomb was built by a wife, Hamida Banu Begam, for her husband unlike the Taj Mahal built by a husband in memory for his wife.
In the evening, we'll toast the perfect end to what has been an amazing day. Enjoy interacting with three generations of women who recreate the fantasy of India's best – known loves: food, fabrics and quintessentially Indian chai. You will enjoy home cooked food with family recipes handed like treasured secrets down the generations. These three women will talk about women in India's society for each of their generations.
Hotel: The Claridges, Deluxe rooms (B, L, D)
Day 3: Sunday, February 25, 2018
Delhi – Agra
Onward to the City of the Incredible Taj Mahal
After we check into our hotel, we will explore Agra's massive 16th century Red Fort, a sprawling former residence of the Mughal emperors. Its walls and palaces are a silent witness to the rise and fall of the Imperial Mughal Empire and feature a variety of ingenious Islamic inspired devices (some decorative, some more practical) within the fabric of the buildings. It's a citadel with marble palaces, ornate alcoves, and terrace pavilions.
Afterwards, we stop for lunch in a cheerfully decorated café and a community center run by female survivors of acid attacks. The food is simple and nice, with a strong focus on good and fresh ingredients.
Late afternoon, we will discover the city on foot and capture some amazing behind the scenes of life and times. And come evening, there's plenty more to get excited as we proceed to capture the magical sunset over the Taj Mahal.
Before we know it, it is time for dinner in an Indian specialty restaurant.
Hotel: ITC Mughal, Mughal Chamber rooms (B, L, D)
Day 4: Monday, Februry 26, 2018
Agra – Fatehpur Sikri – Jaipur
Onward to Jaipur, a Fascinating Cluster of Arts and Crafts
We'll rise early to catch the first rays of dawn gleaming on the marble art, Taj Mahal, a certain sight and a fascinating history that is difficult to escape.  The Taj Mahal is everything and more than we all can imagine. There's no denying that this place is heaving with tourists, but nothing really prepares you for the size, the color and the symmetry; no matter which way the compass needle swings, you will find it striking from any and every angle.
We will return to our hotel for a breakfast. Afterwards, we will depart for our journey towards Jaipur. Enroute visit Fatehpur Sikri, followed by a lunch break in Bharatpur.
Upon arrival in Jaipur, we'll check into our hotel and rest a bit.
We'll spend two days in the pink city, splitting our time between the touristy places and more local neighborhoods.
A traditional dinner is lined up before you retire to your opulent bedroom for a sound night's sleep.
Hotel: ITC Rajputana, Executive rooms (B, L, D)
Day 5: Tuesday, February 27,
 

2018

Jaipur
Take in Jaipur's Magnificence in its Forts and Palaces

With a full day to explore, our first stop is Bagru. This is a fun and interesting experience for those interested in Indian cottage industry, especially craft lovers wanting to get involved and trying their hand at block printing done the traditional way, and understanding the industry from a local perspective. This is a hands on experience where we get to observe all the various stages of the block printing process and create our own piece of art to take back home as a souvenir of our travels to India.

Jaipur's distinctive appeal lies in its historical artefacts, bustling bazaars, or even in its multi-colored turbaned locals. From City Palace that is home to the former royal family to Jantar Mantar, the royal observatory upholding a fantastic aspect and the honeycomb Hawa Mahal staring the bazaar below. And just out of sight, in the dry hilly outskirts surrounding the city is the legendary splendor of Amber Fort, Jaipur's star magnet.

Lunch is planned in an exquisite courtyard of a magical city palace. Refuelled, we will have some time to shop.

Ready to take our next spot, we'll jump back in our coach and head north uphill to Padao, a great little spot for watching the sky go from red to orange to blue in silence.  While the warm hues dance in the early evening light, twinkling city lights beneath, sparkling stars above all set the perfect backdrop for a sundowner.

We will finish our day with a delicious dinner.
Hotel: ITC Rajputana, Executive rooms (B, L, D)
Day 6: Wednesday, February 28, 2018
Jaipur – Pushkar
Onwards to the mystical town of Pushkar
From the urban wilds of Jaipur, we continue our way towards one of India's most sacred towns, Pushkar. This town is set around a series of ghats. Take a perch on the ghat front and just watch the world go by. Before the evening begins, we'll weave between the streets, and explore what secrets the city can reveal. There's a main street, which is a one stretched bazaar, selling all kinds of things to delight every onlooker's fancy, from hippy-chic tie-dye to didgeridoos.
Hotel: The Westin Pushkar Resort and Spa, Deluxe rooms
Day 7: Thursday, March 1,
 

2018

Pushkar – Osian – Jodhpur
On Our way to the Utterly Charming Town of Jodhpur with an Enroute Stop at Osian

In the uniquely historic setting of the lawns of the resort, we'll begin our morning with an invigorating Yoga session. Perfect for those who want to deepen their practice or understand and familiarize more on yoga, meditation and relaxation. This will be followed by an ultimate indulging "floating" breakfast. We'll have some free time to relax and enjoy the beautiful surroundings, before we head out for Osian to experience the aspects of traditional life along the vicinity and timeless beauty of Thar Desert. Take a thrilling camel ride over the sand dunes followed by a sumptuous lunch under the vast expanse of desert sky.

After lunch, we'll head straight to our quiet abode in Jodhpur, and bask in its rustic setting and lovingly tended gardens.

Kick start the evening with an alfresco dinner at Darikhana. It's a beautiful setting where we can see the illuminated fort above and the candlelit Haveli courtyard below.
Hotel: Ajit Bhawan, Vintage Suites
Day 8: Friday, March 2, 2018
Jodhpur
Explore the Blue City, a Treasure Trove of Color, Majesty and Soul
For a fun-filled morning, we'll head to a family-owned farm to celebrate the festival of colors, Holi. Witness the festivities; get covered in the sea of colors, move and shake with the traditional music and enjoy a flavor packed lunch. This is one festival where you really won't feel left out not being local.
With the magnificent Mehrangarh Fort soaring over immense palaces, blue-washed houses and the golden sand of the Thar Desert, this symphonic city allows you to travel through time from early history to present day. The enduring lure has always been Mehrangarh fort, one of the most majestic of Rajasthan's Forts but exploring blissfully its 'buzzy' streets too tiny to be mapped, meeting and admiring the rhythm of daily life of locals feels like tapping into the very lifeblood of Jodhpur.
As the day will melt into an inky darkness, sparkling bonfire, cheery women sporting dazzling colors with ornate jewelry, men in pride with bright turbans and bold moustaches beckon a magical cultural evening. We'll enjoy a lively tradition of storytelling through song and dance, holding tall drinks for indulgence, dancing to the soulful rhythms of local folk beats, and sharing stories behind living traditions.
Hotel: Ajit Bhawan, Vintage Suites
Day 9: Saturday, March 3, 2018
Jodhpur – Narlai
Up Next is Narlai for a Great Experience of Cuisine, Culture and Adventure
From village safaris to royal picnics, from the novel experience of riding some of the finest specimens of horses, to watching an antelope prance past, this place will keep you yearning for more. A stay here feels like tapping into the very pulse of rural Rajasthan. The little mud houses, the turban clad men, the shy, beautiful women, dressed in their traditional costumes and the market with its rich display of wares are sure to leave you love struck.
Enjoy a special dinner at the village step well. As the dusk hits, climb on to beautifully bedecked bullock cart, watch the village slowly going to sleep and traverse the rugged landscape until you see the brightly lit step well with hundreds of lamps. The absolute tranquility of the surroundings, the amazing star – studded night sky, the delectable cuisine, and the perfectly sung folk songs make the evening a very special one.
Hotel: Rawla Narlai, Classic Heritage (B, L, D)
Day 10: Sunday, March 4, 2018
Rawlai – Ranakpur – Udaipur
Set off to Udaipur via Ranakpur Where Splendor and Serenity Come Together to Create a Special Experience for You
Our morning begins with a visit to a local primary school where we have the opportunity to interact with the children and teachers and gain an insight and a perspective of education in this culture.
Along the route, we'll first stop off at Ranakpur to visit the Jain temple, an exquisite work of architecture and art. Dedicated to Jain Tirthankara, this Jain temple is nothing less than a masterpiece that sums up the ideologies, layers of history and foundation of Jainism in India.
Next we break up journey for a delightful lunch spot under a Banyan tree at the intimate Mountbatten lodge that has been designed in a pseudo-colonial style complete with Raj style bar and a country club feel.
Then it's on to the city of lakes, Udaipur. Pictures can go some way to capturing the magnificence of this city, but nothing can beat the feeling of seeing it for real; the massive expanse of marble palaces, shiny lakes changing color as the sun sets and rises and the bordering of country's oldest mountain range, the Aravalis. The rest of day is yours to roam free. Stroll along the narrow streets lined with vividly colored stalls, gardens, temples and palaces mirrored in the placid waters of Lake Pichola. Walking to the charming havelis, Ghats and temples scattered around the lake, are some splendid excursions by foot. Those craving for some adventure; hiking and horse backing in the plush environs of mountains, palaces and the lakes offer a new frontier. Arts aficionados will have no dearth of creative immersions to delight from as the city is also the center for performing arts, crafts and its famed miniature paintings. For something a little more relaxing, a spa is always a good idea.
Hotel: Fateh Garh, Renaissance rooms (B, L, D)
Day 11: Monday, March 5, 2018
Udaipur
Take delight in Udaipur's Big Hearted Hospitality and Tranquil Setting
Our explorations of Udaipur will begin with a guided tour of the city palace. Meandering within the city palace justifies totally the cliché; majestic and unmatched. The magnificent palace walls spread over a mile on the eastern side of the lake, and within the palace are a web of inner courtyards, rooms and ornate halls. Wander through the halls and see some of the royal possessions on display including the gorgeous peacock mosaics, striking blue and white ceramics and Dutch inlaid tile work, glass and porcelain figures and miniature paintings.
This afternoon, we'll meet and engage with women artisans, hear their stories and gain deeper insight into their culture, livelihoods and artisanal crafts.
As the sun takes dip behind the mountains, pouring out its bright orange and red into the sky reflecting off subtle shades on the lake Pichola embark on a boat ride with hills on both sides and the sounds of roosting birds for your company. This is one of the many pleasures Udaipur has to offer.
Hotel: Fateh Garh, Renaissance room (B, L, D)
Day 12: Tuesday, March 6, 2018
Udaipur – Mumbai
Fly into Mumbai, a Glittering City, Full of Grit and Soul and is as Exciting As It Is Diverse
Landing in Mumbai, we'll head straight to our hotel. Then after lunch we will visit Asia's largest slum, known world over as Dharavi. We'll pass through Dharavi's narrow alleys and witness a wide range of these activities: recycling, pottery making, embroidery, bakery, soap factory, leather tanning, poppadum making and much more. Most of these things are created in innovative ways and in very small spaces.
After our tour ends, enjoy a tasty dinner.
Hotel: Vivanta by Taj President, Superior Charm (B, L, D)
Day 13: Wednesday, March 7, 2018
Mumbai
Take In Small Joys In India's Most Dynamic, Cosmopolitan And Crowded City, Mumbai.
Visit the city at dawn. We'll bring you face to face with a new vibe, personality and charm and we know you'll love it as much as I do. Wake up at the crack of dawn to take a peek into the underbelly of the city and gain insights into what makes this magnificent city tick. From watching the milkmen drive past with canisters, the melee of color at the flower markets, to experiencing the clamor and chaos of the arrival of over 100 tons of vegetables, fruits and meat, witness the mercurial character of Mumbai like none other.
We're off after breakfast into the hustle of Mumbai with a city tour. We're talking colonial Mumbai, the colorful neighborhoods of Dhobi Ghat, and the historic meets cosmopolitan vibes of Victoria Terminus Station. We will learn about history, culture, and architecture and about the historic figures that made this city what it is today.
When you think of Mumbai, the glitz and glamor of Bollywood is the first thing that springs to mind. And dance is unquestionably the beating heart of world's biggest film industry, Bollywood. But why just watch when we can join in with the energetic dancers and move to the rhythm of its music. This will be a fun class in Bollywood dancing.
The night is really when the city comes alive and if you're still powered to take up more then simply walking around the streets and people watching. We'll finish up our action-packed day with a dinner at my favorite Indian seafood restaurant in Mumbai.
Hotel: Vivanta bt Taj President, Superior Charm (B, L, D) 
Day 14: Thursday, March 8, 2018
Mumbai – Homeward bound
No matter how tired we were last night we are going to want to get up for our shopping day out.
We'll begin with a walk and talk with an expert from the fashion industry who will take us around the markets while explaining trends and fashion, fabrics and materials. For those keen to explore, there is anexcursion this afternoon to discover some of Mumbai's most unique nooks and crannies like Mutton Street which is a paradise for artists, designers, decorators and antique hunters.
Tonight is your last night with your newfound friends. We will make it one to remember. We have another foodie experience to tempt you with. We will have a delicious meal and will raise a toast to what has been an amazing 14 days of adventure.
Quote Includes:
Stay for a total of 13 nights

Breakfast, lunch and dinner (as per the program)

All transfers, excursions and sightseeing tours will be provided by Mini Coach

Entrance fees at all monuments listed in the itinerary for one visit only, road taxes, parking fee, fuel charges, interstate taxes, and porter age during all airport transfers.

Women tour guide throughout (staying in different hotels)

Susan Geringer, Escort

Bottled water throughout

All ta

x

es

,

tolls

,

pa

r

king fees and service tax

Quote does not Include:
International airfare, Passport and Visa fees for India

Cancellation Insurance, Highly recommended

All personal expenses such as gratuities, medical expenses, laundry, table drinks, telephone and fax services, video or camera fee at the monuments and all other services not specifically mentioned as included in the itinerary.
Distance chart (Approx.)
| | | |
| --- | --- | --- |
| Cities | Total distance | Time taken |
| Delhi-Agra | 210 kms | +/- 4 hours |
| Agra-Jaipur | 245 kms | +/- 5 hours |
| Jaipur-Pushkar | 145 kms | +/- 3 hours |
| Pushkar-Jodhpur | 190 kms | +/- 4 hours |
| Jodhpur-Udaipur | 260 kms | +/- 6 hours |
Flight details
| | | |
| --- | --- | --- |
| Airports | Flight details | Timings |
| Udaipur-Mumbai | 6E 748 (IndiGo airlines) | 09:40/11:35 hours |
Special notes:
Geringer Global Travel reserves the right to modify itineraries and/or substitute hotels of a reasonably similar quality, when available, should circumstances beyond our control deem it necessary.

Non-compliance with the deposit requirements can result in change or loss of services. All deposits and final payments are non-transferable.

Elephant ride to visit Amber Fort in Jaipur is subject to availability as government has restricted the number of rides and prior reservation. We will have to queue and wait to see if we can get a chance to have the elephant ride. There is no guarantee that even after queuing, we will get an elephant ride if the quota of rides is over. In this case, we shall provide jeep rides to ascend the Amber Fort.

Guests travelling from the continent of North America to India can obtain an E-tourist visa. For the complete details, please visit https://indianvisaonline.gov.in/visa/tvoa.html