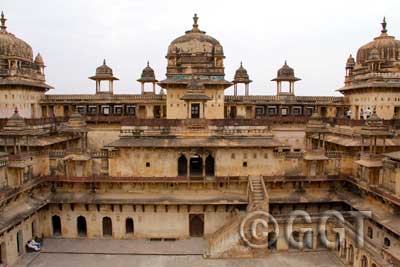 In some corners of Central India not frequented by tourists, there are untold treasures for the curious traveler. There are energetic cities and ancient monuments, grand palaces and prehistoric art, intricately carved temples and rare wildlife. There are so many experiences to be had on a tour in Central India, and so many travelers never see these less traveled areas of this riveting region of India.
That's where Geringer Global Travel comes in. On thisCentral India tour, you will see both popular sights as well as some lesser-known nooks of this region. For example, you'll see the riveting temples of Orchha and Khajuraho and the wondrous wildlife of Bandavgarh and Panna National Parks. You'll discover the urban delights of Mumbai and Delhi and the Neolithic cave paintings in Bhimbetka. From Indore to Maheshwar, Mandu to Bhopal, you can experience the many faces of this lesser-visited region on a tour of Central India with us.
Day 1: Arrive Mumbai
Namaste! Welcome to India!
Your tour in Central India begins in Mumbai, a modern megalopolis infused with the country's ancient ways and eclectic personality. Sample the many flavors of Mumbai today: the Prince of Wales Museum, iconic Marine Drive, the Dhobi Ghat, and the famed Victoria Terminus.
Day 2: Mumbai
Today will be a flurry of activity in the "Maximum City". In the morning, enjoy a boat ride from the Gateway of India toElephanta Island, famous for its cave temples. In the afternoon, visit the Prince of Wales Museum, drive past Marine Drive, Mani Bhawan (where Mahatma Gandhi used to stay), the Victoria Terminus train station and more.
Day 3: Mumbai – Indore – Maheswar
Fly to Indore and onward to Maheswar, an ancient city on the banks of the sacred Narmada River. Explore the city'sghats, and visit some of the local artisans at the Rehwa Society (famous for textiles) and see some if the unique hand-woven sarees made here called Maheshwari.
Day 4: Maheswar – Mandu – Maheswar
Today, discover Mandu, which was once the largest fortified city on the planet. A series of ancient rulers built elaborate palaces like the Jahaz and Hindola Mahals, as well as canals and pavilions. You'll gain insights into the history of this place once called "City of Joy" before heading back to Maheswar.
Day 5: Maheswar – Bhopal
Situated on the site of an 11th century city, Bhopal is a city of old mosques and regal palaces, yet it also is a vibrant modernity to it. The "new" city has an inviting collection of verdant parks and gardens, broad avenues and modern buildings that complement its ancient past.
Day 6: Bhopal
Today, discover Sanchi, home to Sanchi Stupa a shining example of the artistic acumen of Buddhist monks. You can see how Buddhist architecture and sculpture evolved between the 3rd century BC and the 12th century A.D. Later, see the State Museum, the Taj-ul-Masajid mosque and Big Lake in Bhopal.
Day 7: Bhopal
Your Central India tour continues as you see the cave paintings in Bhimbetka. These paintings date to the Neolithic era, each depicting the life of prehistoric cave-dwelling humans. Then visit Iskamnagar Garden. Islamnagar Palacewas built by Bhopal's Afghan rulers, and the formal gardens surrounding the palace feature a captivating combination of Hindu and Islamic art.
Day 8: Bhopal – Jhansi – Orcha
Take the train to Jhansi, and then travel onward to Orchha, the former capital of Bundela rulers. Orchha features a collection of impressively well-preserved 16th century palaces, many of which are still visited regularly by thousands of devotees.
Day 9: Orchha – Khajuraho
Tour the many temples of Orchha today, including Jahangir Mahal, Raj Mahal and the Ram Raja Temple. Later, drive to Khajuraho, home of the world famous Kama Sutra carvings. Visit the Chandela Temple Complex, and soak in the spectacular Light and Sound show at the site of the temples.
Day 10: Khajuraho
The temples of Khajuraho are a fusion of superb architecture and remarkable art, and you will witness their grandeur today. From Eastern Group of Temples—(Parsunath, Ghantai and Adinath) to the Western Group (Kandariya Mahodeo, Chausath Yogini, and Vishwanath Temple), you'll be immersed in this World Heritage recognized wonderland.
Day 11: Khajuraho / Bandhavgarh
From ancient temples to captivating wildlife—today, you venture to Bandhavgarh National Park, a compact tract of land that is full of game. In fact, the density of the tiger population at Bandhavgarh is the highest known in India.
Day 12: Bandhavgarh
Explore the park on morning and evening game safaris. The park is home to 22 species of wildlife, including the regal "gaur," many varieties of deer, the striped hyena, jungle cat and sloth bear and over 250 species of birds. The ruins of Bandhavgarh Fort hover mightily over the park, and are now largely overrun by the surrounding forest.
Day 13: Bandhavgarh / Panna
This morning, drive to Panna National Park, a noted tiger reserve. In the afternoon, set off in search of wildlife on a game drive here.
Day 14: Panna / Khajuraho / Delhi
Enjoy a morning game safari in Panna National Park, before heading off to Khajurhao  for your flight to Delhi.
Day 15: Delhi
Experience Old Delhi, from the opulent Red Fort and massive Jama Masjid mosque to the narrow bustling lanes ofChandni Chowk. New Delhi's Gateway to India and the Presidential Palace showcase modern history, yet the 12th century Qutub Minar and Humayun's Tomb show that even this new part of town has an ancient past.
Your Central India tour will come to an end as you transfer to the airport for your flight back home.
This is just a suggested itinerary—we'd be happy to customize an itinerary to fit your needs. Whether you'd like to choose your own dates, would prefer a shorter or longer journey, would like to mix and match accommodations or simply need something to fit your budget, please contact us at 877.255.7438 or email us at info@geringerglobaltravel.com to discuss how we can create a personalized India vacation for you.