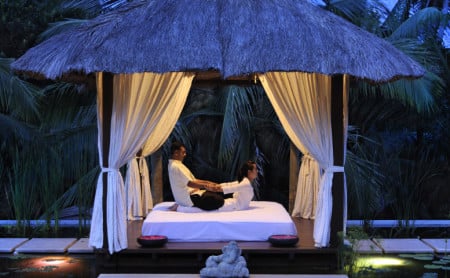 True wellness is about more than just cutting calories and hitting the treadmill. It's about a holistic approach to overall well-being: physical, mental and spiritual. For thousands of years, South India has been at the epicenter of the search for health and contentment. Yoga and disciplines like Ayurvedic healing have been allowing travelers to this region to benefit from centuries of spiritual learning and healthful practices.
On this South India tour, you'll enjoy one of the finest wellness itineraries available to travelers in this part of the world. After enjoying the urban excitement of Mumbai, you'll experience rejuvenation and respite at SwaSara and Surya Samudra, two of the finest wellness resorts in India. You'll engage in invigorating yoga sessions, learn about healthy and delectable cuisines, enjoy soothing Ayurvedic therapies, stroll along picturesque beaches and more. Join Geringer Global Travel on this comprehensive wellness itinerary in South India.
Day 1: Arrive Mumbai
Your tour in South India begins in Mumbai, a modern megalopolis infused with the country's ancient ways and eclectic personality. Mumbai houses the country's largest production houses, stock exchanges, seaport and offices of some of the esteemed companies of the world. In this commercial capital, the streets pulse with activity and possibility.
Day 2: Mumbai
This morning meet the members of the Laughter Club and enjoy a session with them. Repeated laughter during the session relaxes your mind and body, thus breaking the cycle of stress and fatigue. Later, sample the many flavors of Mumbai on a tour, including visits to the Prince of Wales Museum, iconic Marine Drive, the Dhobi Ghat, and the famed Victoria Terminus. You'll also visit Elephanta Island, home to ancient cave temples famous for their magnificently sculpted panels.
Day 3: Mumbai – Goa – Gokarna
Fly to Goa and then drive to Gokarna, an ancient village full of lore and a favorite haunt of Hindu pilgrims. It is also home to SwaSara, a renowned spa lying on 26 acres of rolling hills, gardens, coconut palms and green lawns. Within this spiritually enlightened environment are charming villas—inspired by the homesteads of the Uttara Kannada region of Karnataka—where you will stay.
Day 4: Gokarna
The shouts of the modern world die down to whispers at SwaSwara, and you'll find this out from the moment you arrive here. You'll enjoy an exclusive yoga session early in the morning today. Created in ancient India, yoga's ultimate aim is to create a balance between the body and the mind and to attain self-enlightenment. The rest of the day is yours to enjoy the activities and treatments available here.
Day 5: Gokarna
Head out for a trek on the beach. All four of the beaches here—Kudle, Om, Half Moon and Paradise —are accessible through short treks lasting between 20 minutes to an hour. Gokarna also offers a short trek to the hill known as Bungle Gudda. Once here, you can have the spectacular views of the town, the sea and the surrounding hills and forests. Enjoy lunch at the resort, and the rest of your day to relax or indulge in Ayurvedic treatments.
Day 6: Gokarna
There are a number of optional activities at the resort which you can take advantage of today. For example,SwaSwara plays host to talented artists-in-residence who can share their talents with you, and even invite you to give expression to your own artistry. In addition, guests are invited to join in plucking vegetables and cooking them along with the culinary team in the resort's interactive kitchen gallery.
Day 7: Gokarna
As your South India wellness itinerary continues, embrace more of what makes this resort so magical. Walk down the pathway that meanders from the gardens at SwaSwara and feel the spray of the sea on your skin. Walk down the streets of Gokarna village, stopping to admire the adornments of elderly Gowda women. Follow a birdsong into the deep forests of Gokarna and soon, you could be skipping after a rare butterfly. These are some of the experiences that await you at SwaSwara.
Day 8: Gokarna
Early this morning, enjoy an exclusive yoga session, and take the rest of the day to relax and unwind or enjoy one of the various optional activities.
Day 9: Gokarna – Goa – Kovalam
Drive to Goa and then fly to Trivandrum, where you will be picked up and taken to Kovalam. Your destination here isSurya Samudra, a resort spread over lush green acres of landscaped tropical gardens overlooking pristine beaches in Kerala. The beaches are naturally secluded, keeping the bustle of the world outside at bay.
Day 10: Kovalam
Relax and explore the wonderful spa facilities offered by the resort, including yoga, Ayurveda treatments, authentic Thai therapies and Chinese treatments like reflexology. Trained physicians and therapists explore the essence of time-honored disciplines to help you attain good health and a deeper sense of well – being.
Day 11: Kovalam
Enjoy a tour of Trivandram, an ancient city, with trading traditions dating to 1,000 BC. It is a city rich in the arts and culture: the Swathi Thirunal College of Music is one of India's premier schools of classical music, and the Sree Chithra Art Gallery displays most of the works of the illustrious artist Raja Ravi Varma. You can also see the Padmanabha Swamy Temple, the Napier Museum and more. Later, return to the spa and enjoy the facilities.
Day 12: Kovalam – Trivandrum
Your South India tour comes to an end today. Drive to Trivandrum to board your flight to Mumbai. You'll be taken to your hotel upon arrival, where you can relax before catching your flight home.
This is a suggested South India wellness itinerary—we'd be happy to customize an itinerary to fit your needs. Whether you prefer a shorter or longer journey, would like to include other parts of India or simply need something to fit your budget, please contact us at 877-255-7438 or email us at info@geringerglobaltrvel.com to discuss how we can create a personalized South India tour for you.