This old Himalayan Hindu kingdom became a magnet for streams of extreme adventure seekers from the 60s onwards. And yes, that aspect of its culture continues to thrive. But there are gentler activities one may enjoy here and come away well rewarded with lifetime memories.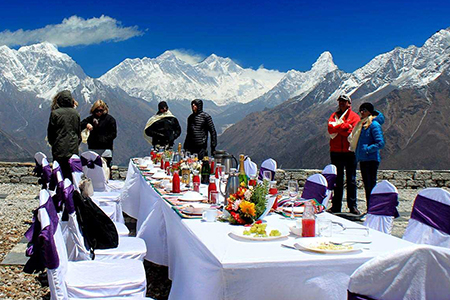 For the Love of High Mountain Grandeur
You may not be a mountaineer, but even armchair travel to the world's highest mountain can undoubtedly give you that great rush. In this case, you need to take that flight to Everest Base Camp for grandstand views of the legendary peak. Seated at a sumptuous champagne breakfast table, tuck away memories of these extraordinary moments as you soak in the vignettes of Everest, that dangerous but highly compelling mountain. Everest stories from a local summiteer ramp up the whole experience. Later catch the helicopter ride, which provides a mind-blowing flypast of some of the world's highest mountains.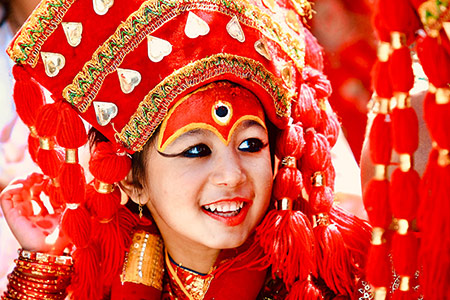 A Tryst with a Virgin Goddess
Myths and tales of mysterious rites enshroud Nepal's Living Goddess – Kumari, enshrined in the Kumari Ghar at the historic Durbar Square of Kathmandu; the Darbar Squares of the medieval towns of Bhaktapur and Patan also feature temples to the Living Goddess. The pre-pubescent goddess embodies the goddess Taleju, the tutelary deity of Nepal's Malla and Shah Dynasties. She is also considered an incarnation of the Hindu Goddess Durga. The worship of the legendary goddess since the 17th century is imbued with some of the most secretive aspects of Nepal's deep-rooted religious pursuits. Crowds throng the Durbar Square for a fleeting glimpse of the legendary goddess. However, in August/Sept, public viewing of the goddess is made possible at the annual Indra Jatra harvest festival, when her chariot wends its way through the city.
Arts and Crafts
Nepal has a ton of things to see and do for the culture buff. Centuries of history and heritage provide a richly layered banquet of delights. Don't miss opportunities to explore the fantastic outpouring of graffiti artists and muralists on the ancient streets of Kathmandu. You can get; lessons from a master on stone carving – an over 2000-year-old tradition in Nepal. Stop by at a master ironmonger for a study in the craft of making the Gurkha khukuri. Then there's the allure of learning about thangka painting, shawl weaving, traditional Bhaktapur pottery making, and woodcraft. All this, and more, offers a fabulous window into Nepal's centuries-old living art and craft traditions, which are an intrinsic part of Nepalese life. Beautifully documented even in its public spaces to this day, they will undoubtedly continue to enrich the country's visitor's experience exponentially.
What is remarkable is that despite the move to modernize, there are active members of society, NGOs and INGOs working apace, with income-generating programs for the communities in rural and urban spaces, to keep these living traditions alive and well.