The happiness of its people is so dear to the Bhutanese government that by policy it has made the currency of 'Happiness' the Kingdom's GDP, above all economic considerations.
Underpinning Bhutan's resolve to create an environment that fosters well-being and happiness, despite economic downturns such as the one encountered during like the COVID-19 pandemic, the GNH Index value of 0.743 in 2010 climbed up to 0.781 in 2022.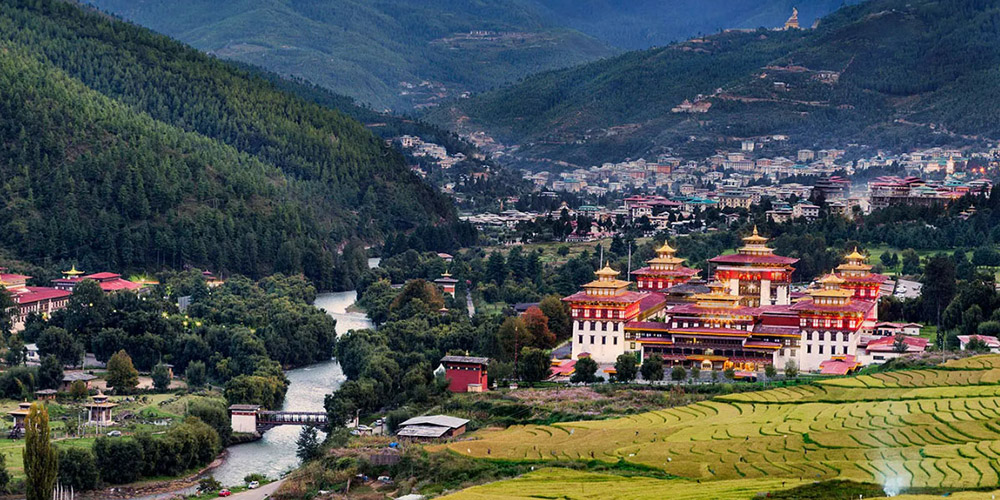 The four cornerstones of Bhutan's GNH are— Good Governance; Sustainable Socio-economic Development; Preservation and Promotion of Culture and last, but certainly not the least, Environmental Conservation. The nine domains by which this is measured are — psychological well-being; health; education; time use; cultural diversity and resilience; good governance; community vitality; ecological diversity and resilience; and living standards.
So, when you want to take time off for a holiday, and expenses are no bar, it makes perfect sense to be in a land that treasures happiness above economic gains. What further enhances this alluring environment is — Bhutan's deep spirituality; its soothing natural beauty, the centuries-old harmonious synthesis between man and Nature, and the protective bubble against the more detrimental outcomes of culture from beyond its borders.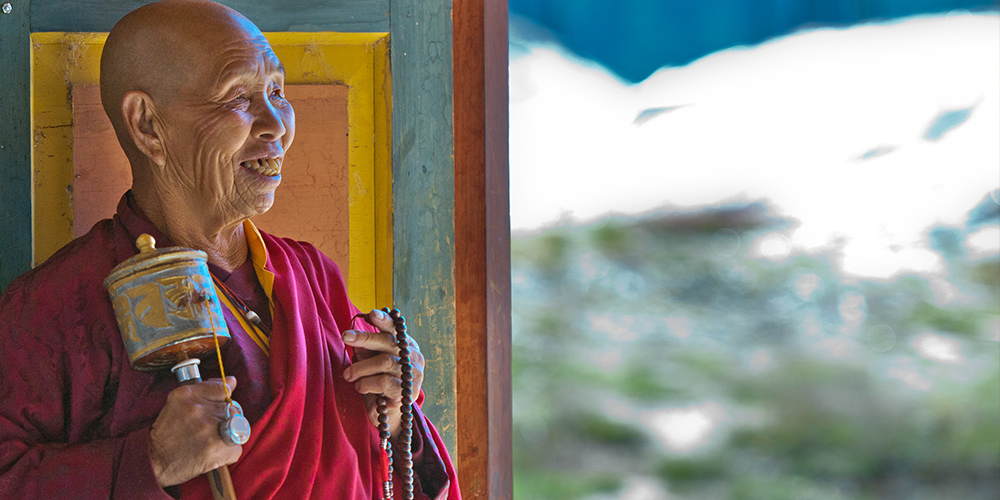 You should kick-start your sojourn with a specially arranged private audience with Khenpo Phuntsok Tashi. A champion of Bhutan's policy of Gross National Happiness, he will share how he finds it congruent with Buddha's Dharma teachings. The 'Role of Buddhism in Achieving Gross National Happiness', his seminal work, offers deeper insights into this worldview. Khenpo has been teaching meditation and Buddhism for over 17 years and has an important role as the Director of the National Museum of Bhutan in Paro. What endears him to his audiences is great humor and warm personality.
Take time out to hike up to the sheer ridge upon which the legendary Tiger's Nest (Taktsang) monastery stands. This vertiginous holy spot is an abiding memorial to the visit of the 8th century Guru Padmasambhava who meditated here in a cave for three days. The sage introduced Tibetan Buddhism to this tiny Himalayan kingdom which continues to embrace the core tenets of his teachings to this day.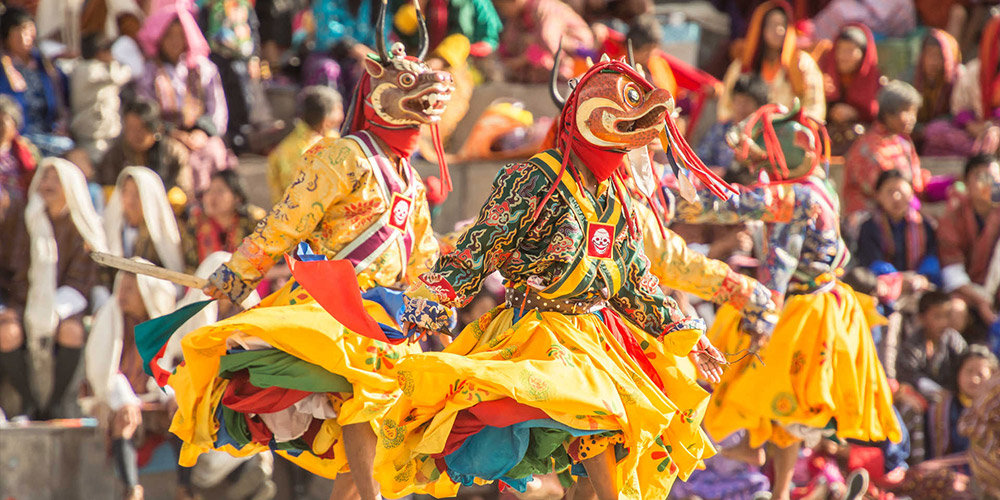 Thimpu, Paro, and Bumthang today offer the shiniest examples of this cultural richness at Bhutan's annual festivals (tshechu). Time your visit to Paro when the festival is on so you can imbibe the spirit of a mask dance (cham), in which gorgeously attired and masked sacred monks ritually recapture the victory of good over evil. Not many in the audience are aware of how Tshechu dancers go into deep meditation to be able to immerse themselves in the particular manifestation of the Guru, to fulfil their role as an embodiment of that deity before the people during a performance. The unveiling of the holy image of Padmasambhava puts the spotlight on another centuries-old ritual. The festivities all add up to a superb fusion of spirituality, the arts, the religious belief of the sacred performers, and the devotion of the faithful in the audience.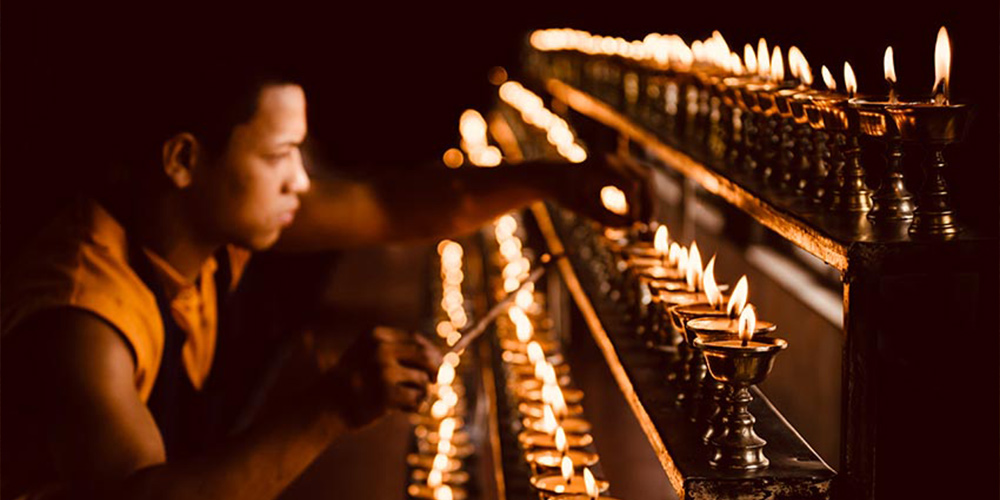 Visits to a Buddhist monastery offer a wondrous opportunity to steep yourself in the rich atmospherics of this calm, unhurried, devotional world of prayer and meditation, scripture recitations, and lighting of butter lamps. You can observe a private ceremony conducted by a senior Buddhist monk. You will witness each sacred time-worn ritual— reading of sacred mantras by the priest, burning of incense, and making offerings to the deities— all with the intent of cleansing one's body, mind, and speech and a prayer for world peace.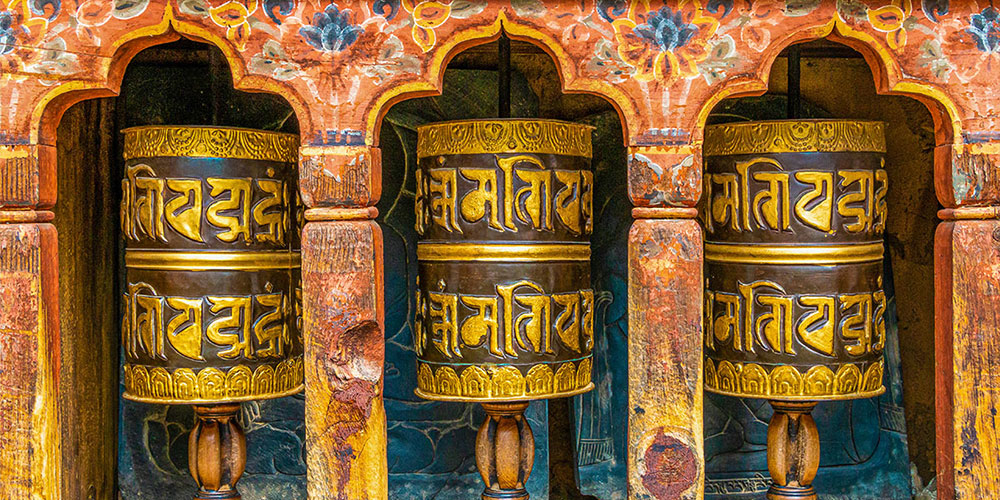 From lighting of butter lamps to raising prayer flags and turning the sacred wheels at a Buddhist shrine. Immerse yourself in these gentle rituals of everyday life in Bhutan. They will bring you back to where you once belonged— in a calmer, saner world, which helps center into yourself. Bhutan shows you the way to observe the world around you with wonderment, new hopes, and a new vision.