The unique and memorable cultural diversions of Bhutan provide a special touch to what one would routinely accept as an exciting travel experience. For one this remote Himalayan kingdom has fiercely protected its native traditions and synergies with nature. Secondly, it has consciously stayed away from the development issues generally attendant to any emerging tourism destination on the world map. What's even more beguiling about Bhutan is its preference for peace and happiness over GDP curves in its economy.
For the Love of Happiness
The warm and personable Khenpo Phuntshok Tashi brings with him over 17 years of experience teaching both Buddhism and meditation. His work, 'The Role of Buddhism in Achieving Gross National Happiness', is considered a landmark work.
He is an avid champion of Bhutan's policy of Gross National Happiness, finding it congruent with Buddha's Dharma teachings. A personal conversation while sipping hot tea with Khenpo provides a deep insight into Bhutan's policy for Gross National Happiness and makes even the most intricate ideologies of Bhutanese culture easy to understand.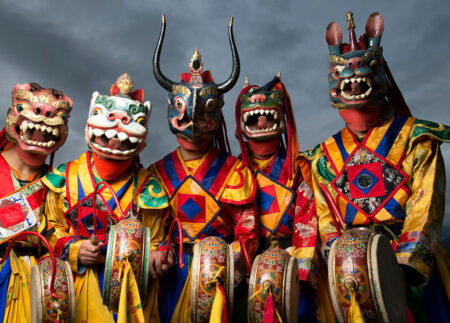 Crafting New Narratives
Bhutan is fireclay proud of its centuries-old crafting traditions and visitors browsing through the bazaars have a field day picking up genuine Bhutanese souvenirs for families and friends back home. Dasho Choki Dorji, a veteran artist, whose interest and love for the profession and zeal to keep alive the zorig chusum (13 Arts and Crafts) set up the Choki Traditional Art School (CTAS) in 1999. These crafts represent hundreds of years of cultural practice, and many Bhutanese see their identity and history reflected in these crafts. On the tour, you will observe how the handicrafts are being made by the students. The small gift shop stocks art products made by the students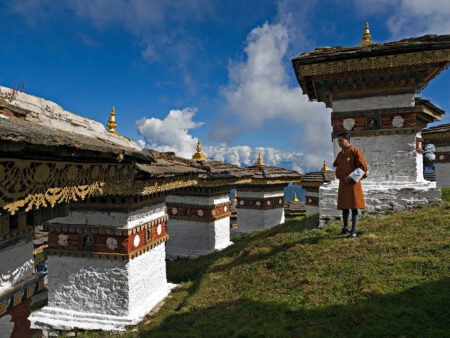 Phallus Worship
Seeking out the unique, and sometimes even eye-popping experience is intrinsic to a cultural adventure. And Bhutan certainly has a way of making you re-think your viewpoint of what engages the culture buff. Traveling across the country you cannot miss the images of the phallus, in all shapes and sizes, whether they are painted on walls of homes, as idols in a sacred spot, in the form of signage, on window displays, or set amidst a shrine in the house. Phallus worship in Bhutan is considered to be an auspicious exercise in the country's religious landscape. The image of a phallus is also a means to ward off evil. The inspiration behind Bhutan's veneration for the phallus was the great spiritual teacher – Drukpa Kunley or the Divine Madman. The roots of this religious practice go back to the 15th century. The eccentric Tantric Buddhist practitioner is said to have subdued demons by knocking them around with his penis and transforming them into protective deities. In Punkaha's Chimi Lakhang, the fertility temple, dedicated to him features a 10-inch-high phallus made of wood and ivory, which is placed in the sanctum.