If you are searching for a perfect family destination, look no further than Nepal. The country means different things to different people, but every kind of traveler finds what they look for, here.
Nestled by the mighty Himalayas, Nepal is home to the majestic Mount Everest and blessed with great natural beauty. Plus, it's rich in history, spirituality, and culture. Go for hikes, explore the city and villages, discover ancient structures, enjoy great food and hospitality, and experience spiritual tranquillity. You and your family will have the best time in your lives, guaranteed.
Explore Kathmandu
Kathmandu is a vibrant city that houses many a surprise in its narrow alleys and streets. The capital city has all embraced modernity by preserving the integrity of the old. Kathmandu is a melting pot of incredible cultural diversity and religious history. Take a walk or cycle to best explore this city. Old Kathmandu holds the promise of many treasures, be it the traditional shops of great antiquity or the religious monuments. You can stretch your exploration to the outer perimeters of the city to enjoy glimpses of rural life too.
Take breaks to enjoy the wide variety of foods. Have your fill of sweet-spicy teas with yummy samosas and engage in conversations with the local people.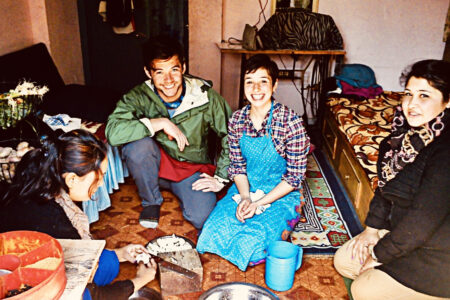 Spiritual Experience
It doesn't matter if you are a believer or not, a visit to ancient religious sites in Nepal is a must-do activity. Two of the world's oldest religions – Hinduism and Buddhism – coexist and thrive in Nepal. There are a number of temples, shrines, and monasteries here, including UNESCO-approved World Heritage Sites. Pay a visit to some of the world-renowned temples to learn about the spiritual culture and history.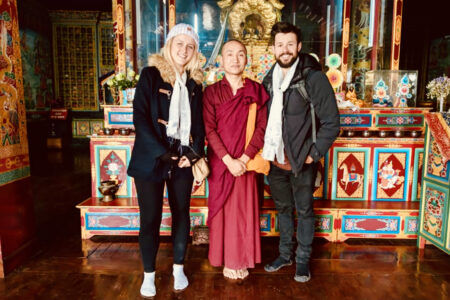 Hiking and Trekking
Traveling in a Himalayan country and not trekking is unthinkable. Now, you might not be prepared to summit Everest, but you can enjoy hiking with experienced Everest Summiteer through any of the many hills in the Kathmandu Valley. And the adventure does not have to end in the capital. You can explore the hills and valleys in Pokhara and the lush forests in Chitwan. It is an absolutely great way to get acquainted with nature as a family.
After all these, it won't be surprising if you have the urge to at least see Mount Everest. There are helicopter trips to the Base Camp that allows you to enjoy the majestic views of the mighty mountain. You also stand the chance to chat with Sherpas who have guided many to the summit.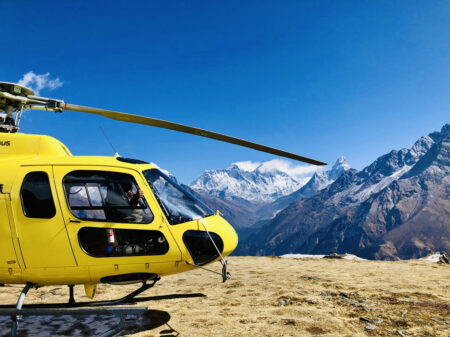 Enjoy Village Life
Agriculture is an integral part of Nepali life. Experience the life of farmers by spending a day or two in the villages of Kathmandu Valley as well as those in other provinces of the country. It will be unlike any other traveling experience you and your family would've ever had.  You will get to enjoy great views, food, and hands-on farming experience too.
You can also explore tea and coffee plantations in the country. It will be a varied rustic experience. Learn how the basic ingredient of your favorite beverages take shape and arrive packed for you to enjoy.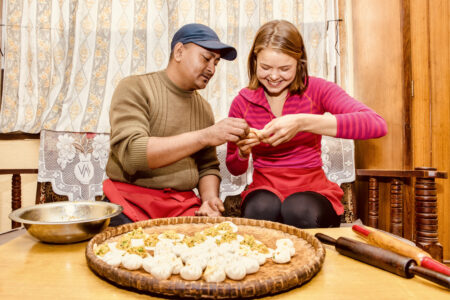 Learn The Local Cooking
Nepal is a melting pot of cultures and it is reflected brightly in its cuisine. All through your travels across the Himalayan nation, you will get to enjoy sumptuous amounts of great Nepali foods. From authentic Newari to cuisines inspired from the neighboring countries, you will be spoilt for a choice. Taste the delicacies from any of the street-side eateries. If you want to do more than just feast, you can also learn to make some of the signature dishes too. There are families who offer cooking classes, mostly for free. Learn to choose the best ingredients, mixing them properly, and cooking them perfectly. What better way than food to enjoy family bonding.