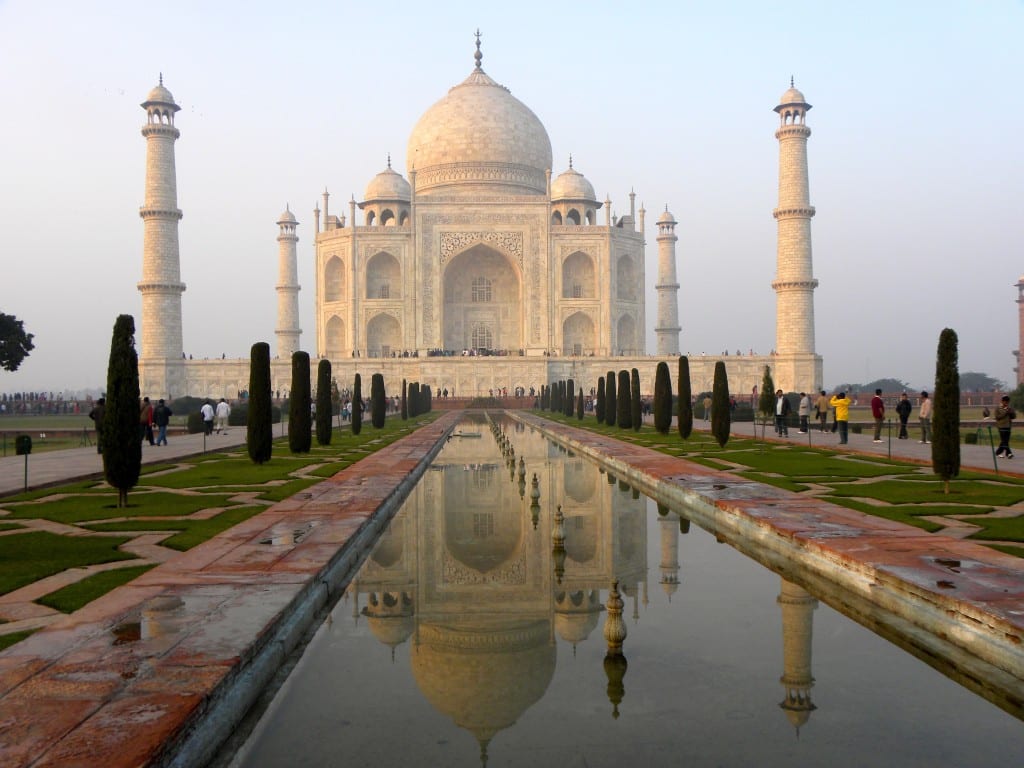 The Taj Mahal is one of the first images that many people think of when they think of India. However, many do not know that it was designed to be a mausoleum. Despite the fact that it is a tomb, the Taj Mahal has become one of the most romantic buildings in the world.
During the early 1600's a struggle for power was being fought for the Mughal Empire throne. When Shah Jahan emerged victoriously, he brought his favorite of three wives to the throne with him. Their love and her beauty was renowned the kingdom over. Even though he had crowned himself "the King of the World", he was powerless to stop his beloved Mumtaz Mahal's death during the birth of their 14th child. As the story goes with her dying breath, she proclaimed her love for Shah Jahan and asked that he build her the most amazing tomb the world has ever seen.
Shah Jahan set out to fulfill his promise with the construction of the Taj Mahal, named after his beloved queen.  The construction took over twenty years to complete.  Over 20,000 marble carvers, 1,000 elephants, tons of white marble and semi-precious stones from all over the world were brought in to complete the project.  The building is a perfect example of Mughal design which blends Indian, Muslim and Persian design aspects.
Perhaps, one of the most alluring physical aspects of the Taj Mahal is the white marble itself. The marble seems to take on a life of its own, reflecting the light of the sun and the moon in all of their phases differently. Bearing this in mind, this landmark is recommended to be enjoyed more than once at different times of the day in order to see the full beauty of the Taj Mahal.
Shah Jahan's beloved Mumtaz Mahal is laid to rest on the grounds of the Taj Mahal just as she had requested. After an imprisonment by his son in the Agra Fort, Shah Jahan also passed away. He joins his queen in the beautiful tomb that he created for her.
In 1983, UNESCO World Heritage Center designated the Taj Mahal as a World Heritage site for its outstanding representation of Indo-Islamic architecture and notoriety.  In 1998, the Indian Supreme Court started an anti-pollution initiative to stop the pollution from nearby industrial plants and cars from ruining the stunning white marble. Today, over 45,000 people visit the Taj Mahal every day. People come from all over the world to visit India's most popular landmark and the site of the most romantic tomb ever built.
If you would like to see the Taj Mahal on your next luxury India trip please contact Susan Geringer at 877.255.7106 or visit www.staging.geringerglobaltravel.com