Staying connected to Nature with more than your creature comforts. That's what glamping experiences mean for many travellers in Sri Lanka's wilderness spaces. The romance, the adventure of experiencing Nature in its purest form–and the delight of living in an amazing luxury camp in the great outdoors in an unbeatable exploration of Sri Lanka's many natural assets. Let's see what it's all about in these 3 Simply Amazing Glamping Experiences in Sri Lanka. From luxury tents with untrammeled views of the amazing vistas, proper beds, luxurious bedding and ensuite bathrooms with showers, jungle safaris and mountain treks, moonlight swims in jungle-lined rivers, candlelight gourmet dinners and wildlife sightings from the camp itself, are just some of the highs the fussy adventurer can look forward to.
Glamping in the Knuckles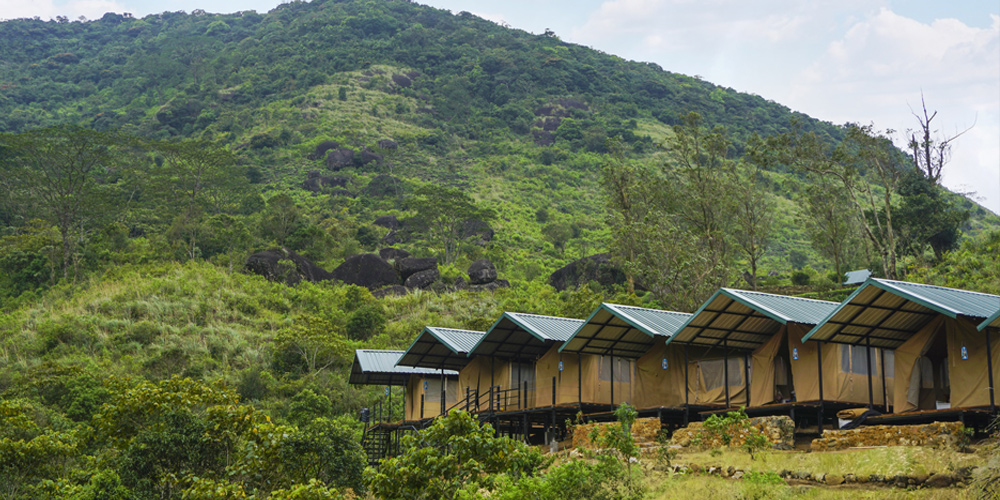 While enthusiastic scientists and anthropologists think nothing of their lack of comforts as they trek the trails in search of deeper research of the mystery-bound Knuckles Mountain range with its amazing biodiversity and native mountain communities, you can opt for a glorious glamping experiences to enjoy the stunning environs of this UNESCO-acclaimed World Heritage Site. Readily approached from Sri Lanka's popular hub of Kandy, Knuckles is a superb trekking hub. The unique clenched fist-like profile of the mountain range, also known in the vernacular as 'Dumbara Kanduvetiya'–the mist-laden mountain range', is what has inspired the name of the iconic mountain.
Many an intrepid trekker has sought the comforts and charms of the Wild Glamping Knuckles camp, bordering the Knuckles conservation forest, to kick off their explorations of the mountain range, which is home to 34 percent of Sri Lanka's endemic flora and fauna species. Knuckles are an amazing haunt for wildlife sightings and birding experiences.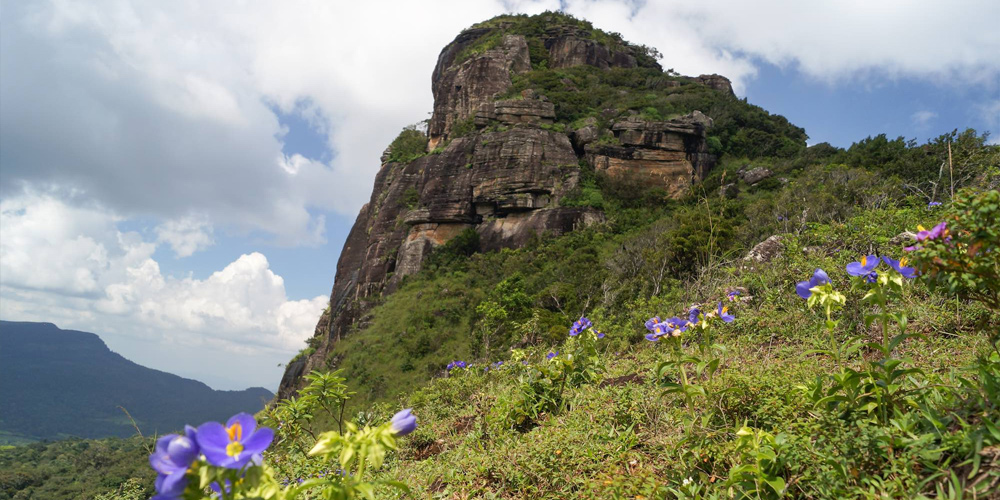 You will love the memorable experiences left behind by your time spent in its spacious luxury tents, which are designed along green building standards and uninterrupted views of the pristine environs provide you with a more immersive eco-friendly, back-to-nature glamping vibe. The comfortable bedding and ensuite bathroom, the yummy meals are delicious luxuries, which go far beyond the concept of creature comforts, in this wilderness area. An unmissable treat at Wild Glamping Knuckles is the 3-4 is the Corbett Gap Trek inspired by the British surveyor Corbett who mapped the area. Another other good option on this glamping jaunt is the off- the- beaten- path Heel Oya Trek which takes you past tea estates, pine forests, waterways and misty-shrouded hills. It's an excellent opportunity to delve into the authentic lifestyle of a village in Sri Lanka which is determined by occupations such as traditional paddy cultivation and farming methods. The 4-5 hour Waterfalls Trek takes you through a trail embedded deep in the amazing Knuckles forest reserve.
Yala National Park Glamping Highs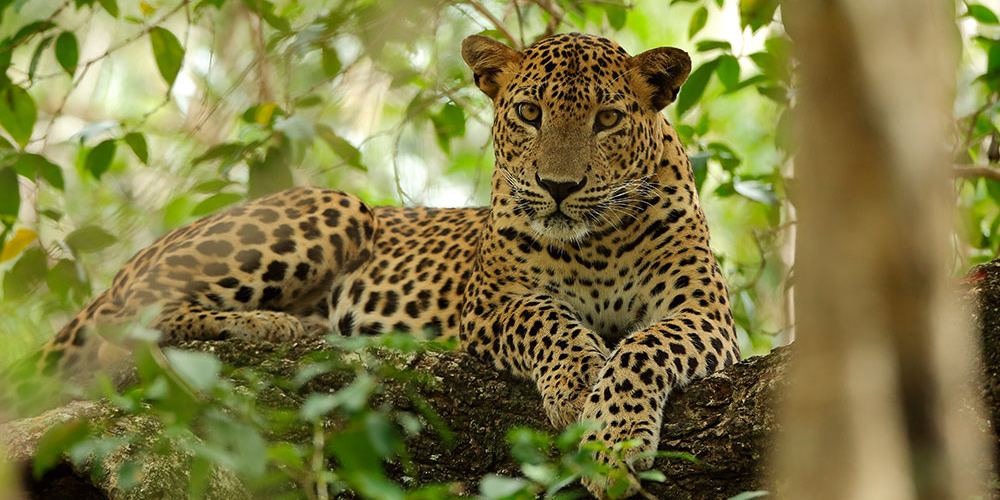 The exquisite wilderness expanses of Sri Lanka's fabled Yala National Park, with its highest concentration of leopards anywhere in the world, are best enjoyed from the comforts of a fantastic glamping campsite. It's what really enhances those seamless back-to-nature experiences that you seek here. The 979 sq. km park is an ancient stamping ground for a variety of wildlife denizens including elephants, sloth bears and water buffalo who share this space with its leopard population. Yala, with its superb range of avifaunal species, is a birder's paradise par excellence. A host of glamping campsites are located around the park. One of the choicest amongst these amazing options is Leopards Nest, which offers two accommodation options–large tents and treehouses, popular for their unique design and exclusive comforts. Other add-ons are as local village house visits, cookery sessions, moonlight swims a jungle-lined river and dinners under the stars. For those looking for hotel-style glamping experiences, there's the Cinnamon Wild Yala, set up here by the popular hotel chain in Sri Lanka. A 5-minute drive from the National Park it features chalets with private balconies with beach and jungle lookouts, an outdoor pool and a restaurant. Nestled close to a lake it offers viewings of crocodiles, pelicans, deer and avifaunal visitors.
Elephantastic Glamping at Udawalawe National Park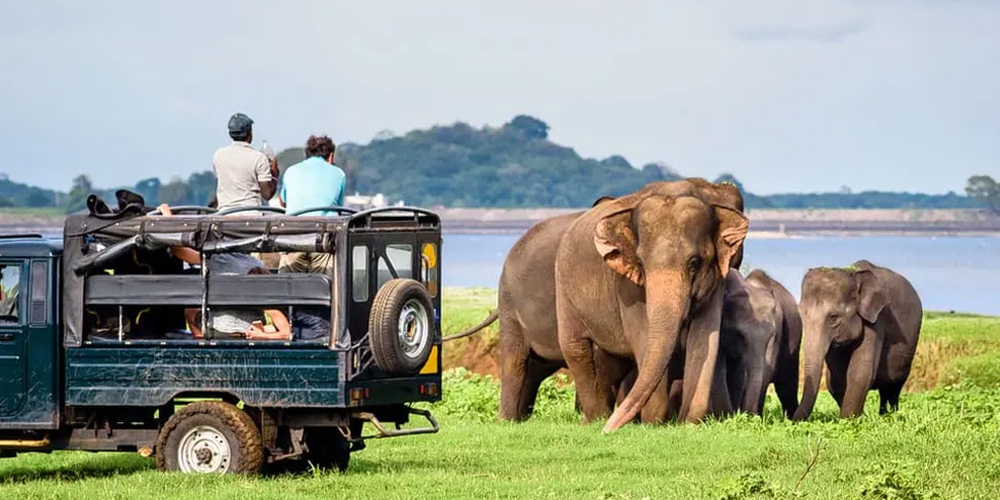 If you are a great fan of elephants, the best place to expect amazing thrill-filled jungle safaris for sightings is Sri Lanka's Udawalawe National Park. With anywhere between 600-700 pachyderms living here, the park is a magnet for visitors is season time. The park is also home to wild boar, sambar, langurs, jackals, Toddy cats and more. With over 180 avifaunal varieties, it's a paradise for birders. An excellent base for great experiences of the park is the superb Mahoora – Udawalawe by Eco Team – Level 1, a lovely glamping site along the eastern border of Udawalwe National Park. Set in a beautifully maintained mini nature reserve the glamping facility itself offers memorable nature-centric experiences. Its fully carpeted and sealed bedroom tents are equipped with comfy double beds and modern and private bathroom facilities and a living area; the private patio is lovely too. Mahoora safari tents are claimed to be the largest and most luxurious safari tents in Sri Lanka's glamping arena. Each tent is handmade locally using the finest of materials and designed to be fit for a king in the wild.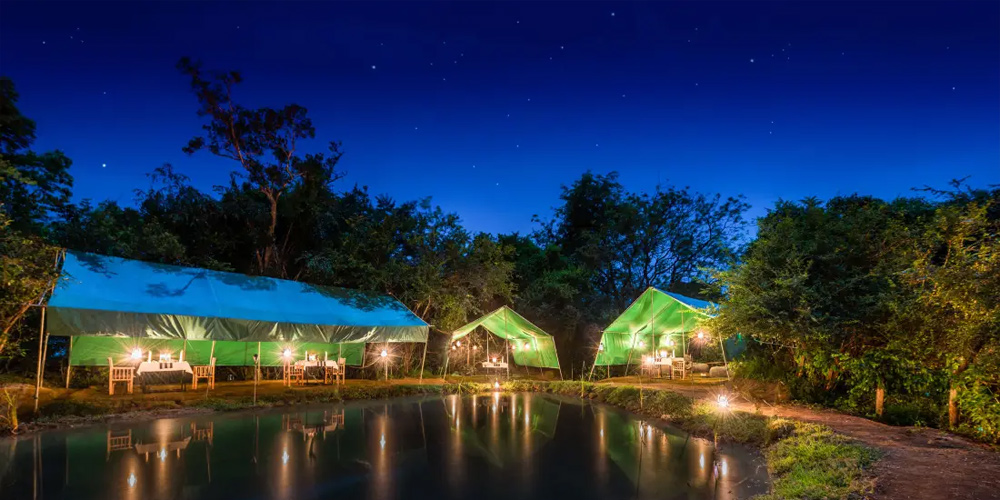 Scattered across the amazing natural settings of Sri Lanka are a string of many other game parks and sanctuaries where glamping camps of excellent quality hold the promise of enthralling wilderness experiences for the luxury vagabond and fussy adventure buff.