Some of the most exciting and culturally rich enticements await visitors at the riverside destinations in India. Each has an individual flavor to it, thus offering you a small window to India's fabulous heritage, cultural, and regional diversity.
Kolkata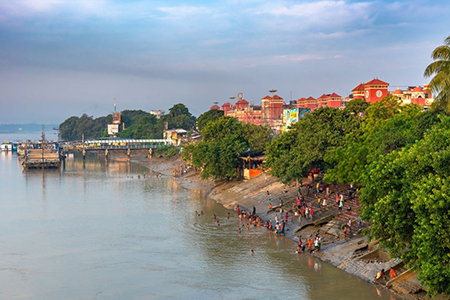 The Hoogly River, an arm of the sacred Ganga, has long served as one of Kolkata's most important cultural lifelines. Exploring the riverside moorings of leading Raj-era buildings and its impact on local life, which unspools around it, provides an excellent understanding of this multi-layered city. In the 16th century, European traders sailing up the Hoogly to do business in Bengal witnessed an astonishing diversity of people and cultures that had mushroomed on both banks.
Unmissable structures to be seen here are the ancient Victoria Memorial, an edifice now transformed into a superb museum, Fort William which gained notoriety as the 'Black Hole of Calcutta' and the iconic Howrah Bridge, the world's longest cantilever bridge and venerable Dakshineswar Kali Temple. Fifty-four ghats line the river, bristling with history and heritage. Named after noted Anglo-Indian scholar and antiquary James Prinsep, royal British entourages used Prinsep Ghat. Catch a boat ride in a traditional nouko from here. Babu Ghat, Armenian Ghat, the Flower Market, Kumartuli, clay idol makers' hub, are fabulous for soaking in the local vibes.
Varanasi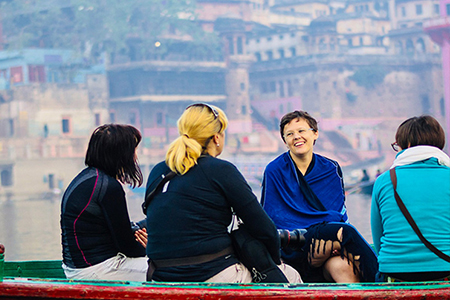 Nestling by the banks of the sacred Ganga River, Varanasi, the Kashi of yesteryears, ranks amongst the oldest and continuously inhabited cities in the world. And it's linked inextricably to the Hindu faith, which is amply clear from the pursuits of its citizenry, visiting devotees and curious travelers at its hallowed ghats and many temples. Sailing along the river at dawn, past this heritage zone, unspools a moving picture of how the river embodies so many important components of the Hindu faith and its connection to the cycle of birth, death, and rebirth. For it is fervently believed that dying in holy Kashi, or if they consigned your mortal remains to the Ganga, it will release you from this endless cycle. And the one to whisper that sacred mantra for that release/moksha/ salvation is none other than Lord Shiva, whose city this is. In the evening, catch the twilight boat ride to witness the amazing Ganga Aarti held daily at Dasashwamedha Ghat.
Goa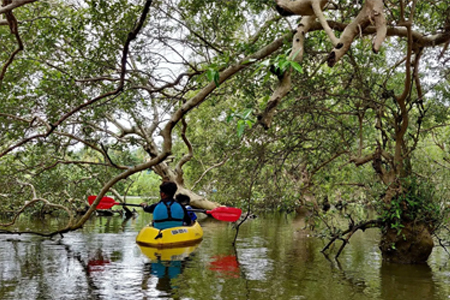 The iconic Mandovi River offers a delightful contrast to Goa's beachside allurements. What one should do is hop on to a ferry and sail down to Divar Island, amongst Goa's less inhabited destinations, for a leisurely uncrowded experience. This is an excellent opportunity to also explore the enchanting pastoral vistas of North Goa and one should do it the e-bike way as a sustainability conscious traveler. The ride winds past emerald paddy fields, lush mangrove, fishing villages and temple sites. Along the way you'll sweep by some lovely Portuguese-era houses. From a baroque church you can catch fabulous 360-degree panoramas of the surrounds. You can wrap up your day with a sunset cruise which takes off from picturesque Panjim and pick out the city sites from the boat as you glide into the sunset.
India has innumerable riverside destinations that provide tempting historical and cultural insights into this glorious land. It would take a lifetime exploring them for their richness and variety. So be prepared to make a riverside destination here on every bucket list for your India travels. You won't be disappointed!