Considered one of the world's top eco-friendly countries, Bhutan ranks very high on the bucket list of the discerning traveler. You would be remiss if you haven't planned at least a couple of holidays here, if not more.
Thimphu
National capital Thimphu is a great window to the rich and varied cultural delights of this beautiful country where the friendliness quotient has been pivotal to in encouraging visitors to imbibe of its many charms, the most important of course being the national happiness over all else as its GDP quotient.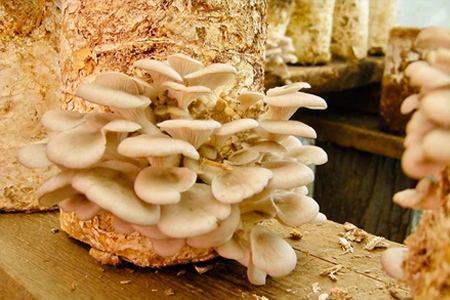 People in Bhutan follow the Vajarayana or Mahayana streams of Buddhism, which touch upon many aspects of the life here. Visit a monastery where, as a special privilege, you will take part in a private ceremony conducted by a senior Buddhist monk and receive his blessings of a senior monk. Surely an auspicious start to your explorations of Bhutan, You should also take time out to explore the amazing the Choki Traditional Art School (CTAS) near Thimphu which keeps alive the zorig chusum (13 Arts and Crafts) of Bhutan. Started by veteran artist Dasho Choki Dorji, it represents hundreds of years of cultural practice.
Enjoy an unparalleled culinary experience as you camp out in a pristine forest with your host to go–mushroom foraging. That's right, the Bhutanese love mushrooms and there's a certain time in the year when one of the most delectable varieties can be sourced direct from nature–it's not something they can cultivate. What we are talking about here is Tricholoma Matsutake, locally known as Sangay Shamu or Buddha mushroom, so beloved for its aroma and succulence.Didi you know that families actually camp out for days on end in the forest to collect these… and not just for sale (some veg markets in Thimpu can be found with this treasured organic produce) it's for home consumption too. Did you know Bhutan has over 400 varieties of mushrooms? And that Genekha village in Thimphu actually hosts an annual mushroom festival in August? You'll learn a lot of things about mushrooms, which is quite an art, when you are camping out with the locals. Returning to your host's home, you can join the family in the kitchen and learn how to actually cook these delicacies. A great favorite of course is the ever popular dish of Shamu Datshi, a mushroom, chillies and cheese dish.
Another Bhutanese activity you have to jump into is archery–and you really must try a hand at it. Head out for Thimpu's Changlimithang Archery Ground during a tournament and lose yourself in the vibrant local buzz as it's so deeply embedded in Bhutanese culture. After all, archery was an intrinsic part of Bhutan's ancient martial traditions.
Paro
The gorgeous Paro Valley offers an amazing range of activities to get the full measure of its natural wonders. Trekking, nature walks gentle hikes–they all serve as excellent ways to enjoy up-close and personal encounter with this bounty of beauty and the local communities. Almost 60 percent of Bhutan is under forest cover and the wealth of its biotic heritage is legendary. A tough but rewarding trek is the one up to Taktsang Donzg or Tigers Nest, perched on a semi-vertical path up a craggy mountain top. Guru Padmasambhava, the great sage who was the proponent of Vajarayana Buddhism, did it the easy way in the 8th century. He flew here on the back of a tigress to meditate in the cave, a sacred spot now marked by the monastery!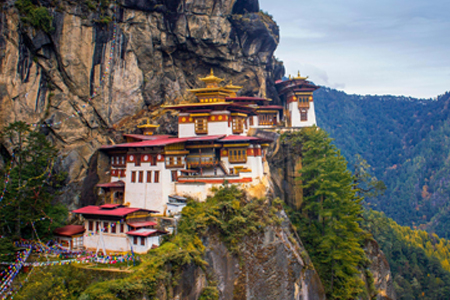 To touch the mystic soul of Bhutan, you should enjoy an individual audience with Khenpo Phuntsok Tashi who, with his warm personality, brings with him over 17 years' of experience of teaching both Buddhism and meditation. Little wonder that endears him to his students and guest audiences. Khenpo is a champion of Bhutan's policy of Gross National Happiness, finding it congruent with Buddha's Dharma teachings.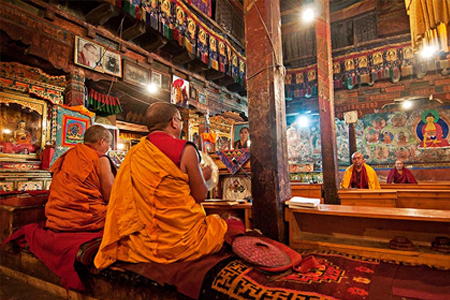 Get under the skin of rural Bhutan staying at a local farm and joining the family in its day-to-day routines. Dressed in the traditional attire of the farmers, join your host in the fields. Then, when the day is done, return to soak away the tiredness with a traditional hot stone bath, and dinner with red rice and produce cooked with and local spices. Wash it all down with Ara, the local rice wine.
Punakha
Explore Bhutan's gorgeous topographical beauty from another perspective. Join other enthusiasts in the nerve tingling ride of the rapids on Bhutan's less wild rivers, Mo Chu and Pho Chhu. Rapids here can vary between grades 1–4+. On the calmer bits, take selfies with the massive hanging bridge and the historic Punakha Dzong, a winter home for the monks. Follow the gorgeous trail to the popular Gasa Hot Springs, where locals indulge in wellness practices in the mineral-rich waters here. There's a cultural vibe that you must not miss–that wellness here comes with the special blessings of the Buddha. At Punakha's Chimi Lakhang fertility temple, delve deeper into the unique Bhutanese spiritual pursuit of phallus worship, signs of which you will encounter wherever you travel in the country. The phallus is an auspicious symbol, and religious image to deflect evil, and there's an intriguing story behind this.
Well, uncovering that mystery is one reason Bhutan piques our curiosity. There will be many other things that will tempt you to return to this wondrous destination. So start making that new bucket list!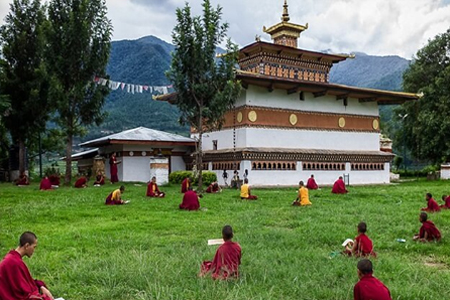 Explore our collection in Bhutan