It's not just hard core wildlife buffs who get excited when they see a Tiger in its natural habitat. There is something about this apex predator of the Indian jungle that mesmerizes us all with its gold-to-orange striped pelt, its majestic stride, its forbidding visage–and its earth-shattering roar, which can make you run for cover. Tiger-spotting is one of the most thrilling wildlife experiences in India and people arrive from all over the globe, sometimes just for this exclusive adventure. India now accounts for 75 percent of the global tiger population owing to its long history of conserving the species through Project Tiger.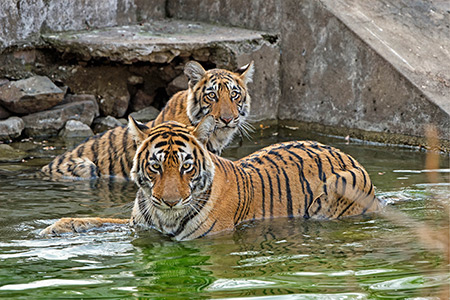 The Bandhavgarh National Park in Central India, nestled between the beautiful Vindhya and Satpura mountain ranges, is considered the world's best place to go tiger–spotting. For one, it has the world's densest population of this gorgeous animal, and second, the park is quite small and the open terrain, a mix of deciduous forests and flat grasslands, makes it easier for sightings, unlike say in the jungles of Corbett National park where the deciduous forest is really dense. The Taala Zone is the oldest and best place in Bandhavgarh to find tigers. The best time to see tigers is from April and May, when they appear more frequently at the waterholes because of the fierce heat of summer, and it's also when die-hard fans have no issues with their own discomfort in these temperatures!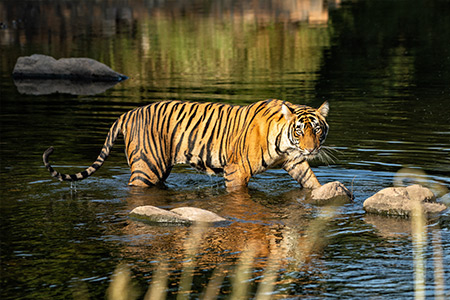 Adjoining the grand spaces of Bandhvagarh is Kanha National Park, another fantastic abode for the tiger and with many opportunities to get sightings. The terrain, a glorious mix of dense sal forests, and rolling savannah grasslands, is much greater. In fact, Kanha is one of the biggest game parks in India and is also world renowned for its superb conservation programme for saving the rare barasingha (hard ground deer) or 12-antlered deer. Fantastic work has been done on this front as the species was going extinct because it was much favored as a trophy animal hunted for its 12-point antlers.The park is legend also for being the setting of Rudyard Kipling's 'The Jungle Book' now a big Disney movie, for its beloved characters like Balloo, Sher Khan, Kaa and Bagheera!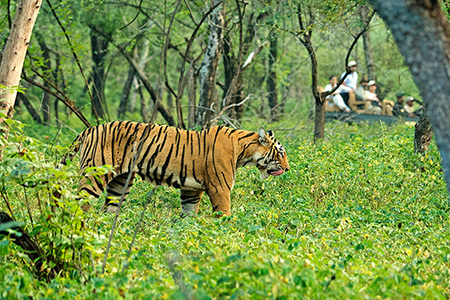 Travellers to Rajasthan should not pass up the opportunity to visit Ranthambore National Park, a hot favorite with visiting dignitaries. This is the home of Macchli, the world's most photographed tigress, who was a legend for her bravery in taking on a crocodile and for her huge contribution to the tiger population in this National Park. This gorgeous animal may have left for the jungles of heaven, but her legend lives on! While sightings of tiger in this gem of a forest will fill your memory bank, do marvel at its amazing botanical wealth and cash in on the birding opportunities here. The ancient stones of Ranthambhore Fort, if they could speak, would recount tales of battle hard fought in this verdant terrain. Pockets of the fort are the nursery of the tigers, so you can't really go visiting now. But there's an ancient temple where locals visit regularly for worship, even when the park is shut to visitors.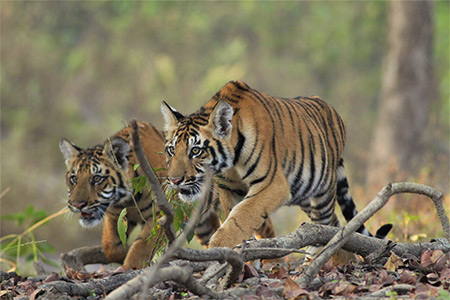 The Tadoba-Andhari Tiger Reserve in Maharashtra can be reached from Mumbai. This 120 sq km park, the oldest in the state, has become a wildlife buffs haunt for good tiger sightings and excellent birdwatching experiences at the lake here. There are a now total of 52 Tiger reserves in India. We expect five more sites to be formally added to this by the end of this year, taking the total number of TRs to 57. The old obsession with the legend of India as a land of exotic wildlife and ancient forestlands continues to draw visitors to the country's game parks. What you will love are not just the jeep safaris, but also an opportunity to. Now you can take back thrilling holiday memories of tracking them by staying in some beautiful old colonial forest rest house deep in the jungle, which falls in the path of the animals. On your next visit, you should certainly combine these two exotic experiences in the Indian jungle!