The immeasurable charm and ability to come up with new surprises all add to the constant appeal of Bhutan as an escape from the frantic pace of modern life. While the Kingdom has embraced the idea of modernism judicially, it still clings firmly to the native roots of its centuries-old culture, which makes it so attractive.
Architecture speaks
On your travels around the country, you cannot but be drawn to its native architectural features, which are rooted in ancient tradition. By law, all buildings, palaces, and monasteries are expected to conform to the traditional architectural style to ensure the continuity of one of the country's most distinctive features. Amongst the most prominent structures to delight in are the dzongs – old fortresses, now serving as admin complexes.  A monastic and administrative center of western Bhutan in 1646, Rinpung Dzong in Paro district is associated with the Kagyu order of Buddhism. What is also unique about it is that it was the first building made from stones instead of clay. The country's second-oldest dzong, the Punakha Dzong, dates to the 17th century. This monastic establishment was the administrative seat of government in Bhutan until 1955. In 2011 its sacred spaces were the venue of the wedding of King Jigme Khesar Namgyel Wangchuck. While rafting down the Po Chu River, you get a splendid view of Punakha Dzong and Bhutan's longest suspension bridge (160m) which connects it to Punakha town.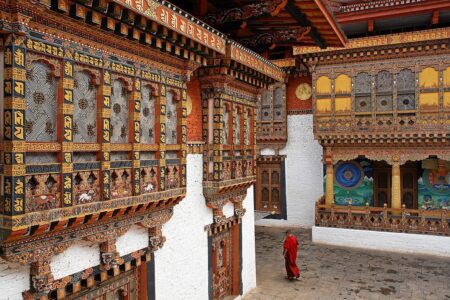 Religious Practices
While we are quite familiar with Bhutan's ancient roots with Buddhism, not many of us are aware of the Himalayan Kingdom's unique connection with the phallic symbol, which you will discover paintings of in public spaces as well as walls of homes, as key chains, and necklace pendants— all across the country.  Punakha's Chimi Lhakhang, or fertility temple, enshrined in which is a wood and ivory penis, reveals the secret. It is used as a sign to ward off evil and invoke the fertility gods!  Childless couples arrive to seek the blessings of this sacred object. One legend has it that the ritual is also associated with the 'Divine Madman' or Tibetan Lama Drukpa Kunley, who used his penis as a weapon to drive away evil from a woman.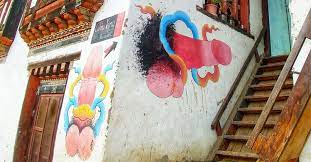 Nature's Bounty
Unspoilt vistas and tranquil spaces, Bhutan's most bankable components as a tourist attraction, are assured protection by the stringent laws in place to protect the environment of this Shangri-La. Its remote location and the vigilant monitoring of tourist traffic have been pivotal in ensuring visitors get the most rewarding experiences in these gorgeous natural settings. From the splendors of the Paro Valley to the magical spaces of Bumthang, from the Himalayan vistas from Chele La Pass to the verdant expanses of the Haa Valley — there are temptations galore to make you linger in Bhutan.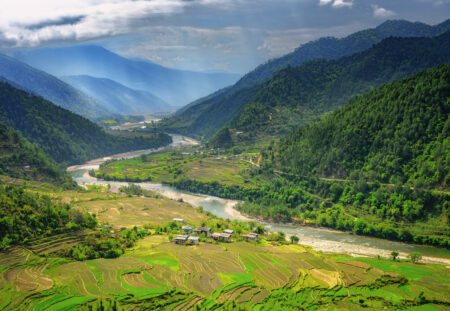 Happy Culture
How can a country that ranks national happiness over all else as its GDP quotient not appeal to us? Spend time in conversation with Khenpo Phuntshok Tashi, a champion of Bhutan's policy of Gross National Happiness, and find that connect with Buddha's Dharma teachings. His seminal work, The Role of Buddhism in Achieving Gross National Happiness, is worth reading for a deeper insight into Bhutan's policy for Gross National Happiness.
Sports and Adventure Highs
For the Kingdom, the tradition of archery is rooted deep in its ancient culture, for not only was it an essential tool in warfare in olden times, but it is also a means of socialization, communication, and development of relations between people.  Mountain biking in Bhutan may be relatively new, but it is unbeatable for the exceptional experiences you will enjoy amongst pristine environs and cultural explorations. The official policy of catch and release for fly- fishing may restrain you a tad, but how joyful it can be to go freshwater fishing in the under-discovered and unspoiled fishing spots in Bhutan.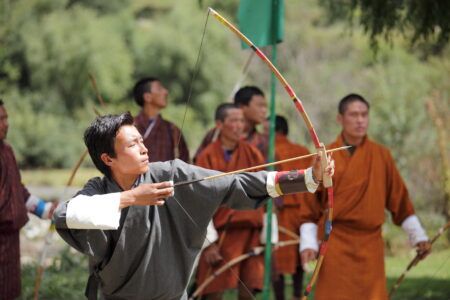 Bhutan today has transformed into the most compelling destination for inspirational, deeply rewarding, and understated adventures. Be prepared to linger to delve deeper into each offering you encounter.
Explore our recommended experiences in Bhutan.