To be sure, the guts and glory stories of the intrepid mountaineers, who couldn't resist the siren-like allure of climbing Mt Everest, are inextricably entwined with the legendary wonderments of the Himalayan Kingdom of Nepal. But travelers will also discover that its lush forests filled with exotic flora and fauna, its heritage-steeped cities, and its spiritual pursuits offer some of the most memorable experiences to share with family and friends back home.
Trek the Trails
If you want to mix your hiking experience with a healthy dose of culture, you will love the Chepang Hill Trek in the Mahabharat Range of Central Nepal. This lovely eco-friendly, back-to-nature adventure, with the bonus of a panoramic sunrise over Himalayan snow peaks, takes you through a gorgeous rhododendron forest. This new trail, which has opened up the lesser-visited area in the Chitwan terrain, also aims to improve the socio-economic conditions of the local communities.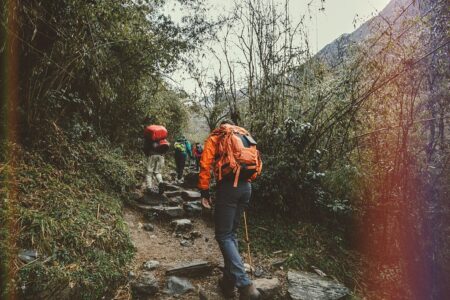 Kumari the Living Goddess
The worship of a young virgin goddess has to be one of the unique aspects of Nepal's spiritual culture. The body of the Kumari, the prepubescent goddess, is believed to be inhabited by the goddess Taleju, an incarnation of the Hindu Goddess Durga. Taleju is the protective goddess of Nepal. Kumari is honored in the annual Indra Jatra harvest festival. There are various Kumari in Nepal, but the most significant are residing in ancient shrines at the Darbar Square at Kathmandu, Bhaktapur and Patan.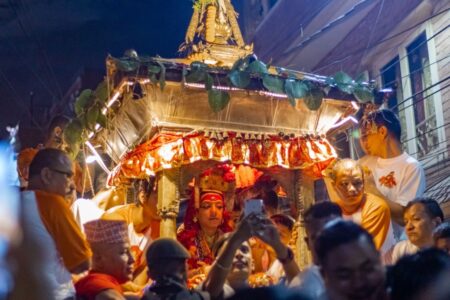 Currying favors
An extraordinary journey of discovery of Nepal's food awaits the food adventurer across its various geographies. While the traditional dal-bhat, nettle soup and momos may be par for the course in city homes and restaurants, your travels across the country will introduce you to the great variety of Thakali and Newari cuisines, as also those of its ethnic minorities. Newari food traditions of the Kathmandu Valley are famed for their range of 200 veg and non-veg dishes and snacks. What makes Thakali cuisine stand apart from Newari fare are its flavors and spices. Thakali cuisine, rooted in the Thak Khola region of Mustang, leans towards rice, buckwheat, barley, millet, and dried meat and vegetables. The ethnic Tharu community of Nepal's Chitwan region, apart from a fondness for fish crabs, snails, and mussels, also relishes a dish made with field mice!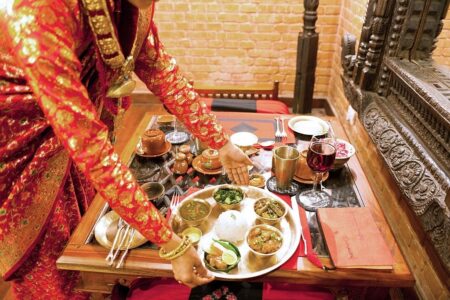 Supernatural Surprises
Dive into the underbelly of Nepal's mystical world of shamans (jhakris) when you travel to Dhulikhel village. The ways of the shamans are still cloaked in veils of mystery and magic. For centuries shamanism has been connected to many areas of the lifestyle of the Nepalese at all levels of society. These religious practitioners (believed to be in touch with the supernatural world) are called upon to cure various diseases.
The multi-layered charms of Nepal certainly need many repeat trips to do justice to its incredible history, heritage, culture, and people. Explore our recommended experiences in Nepal.