Onam is one of the most popular festivals in the southern state of Kerala. It is traditionally celebrated over 14 days as people welcome the return of the mythical King Mahabali. This year Onam is held from September 4, with the main festival day being September 14th and continuing through until September 16th.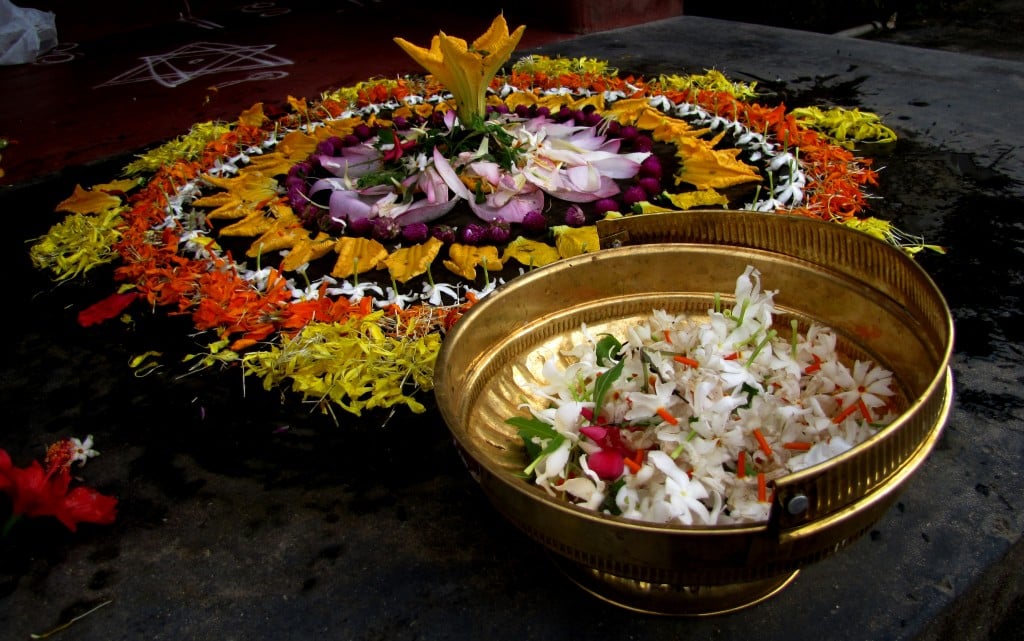 To greet their king most homes decorate their entrance with a glorious flower arrangement called a pookalam. These are kept for the entire duration of the festival. The pookalam is also very competitive, with many communities awarding prizes for the most elaborate and beautiful designs. Throughout the festival different celebrations occur with all the joy and fervour that you would expect. There is music, dance and of course processions and boat races that centre around the temple.
Lord Vamana, an avatar of Lord Vishnu, is the deity that is worshipped throughout Oman. King Mahabali was the much loved king of the region, but the gods feared that he was becoming too powerful. To curtail his hold over the region Lord Vishnu appeared to him as Vamana. Vamana is a dwarf, so when he asked King Mahabali if he could have the land he could cover in three steps the King obliged. Much to his surprise Vamana then grew into the tall Lord Vishnu and proceeded to take his first step into the sky, the second into the underworld and was just about to take his third step over the world when Mahabali offered his own head. Given his humility Lord Vishnu allowed King Mahabali to return each year, an event that is now Onam.
Another important part of Onam is of course the feast. While food features prominently across the entire festival, nothing is more spectacular than the traditional Onam Sadya.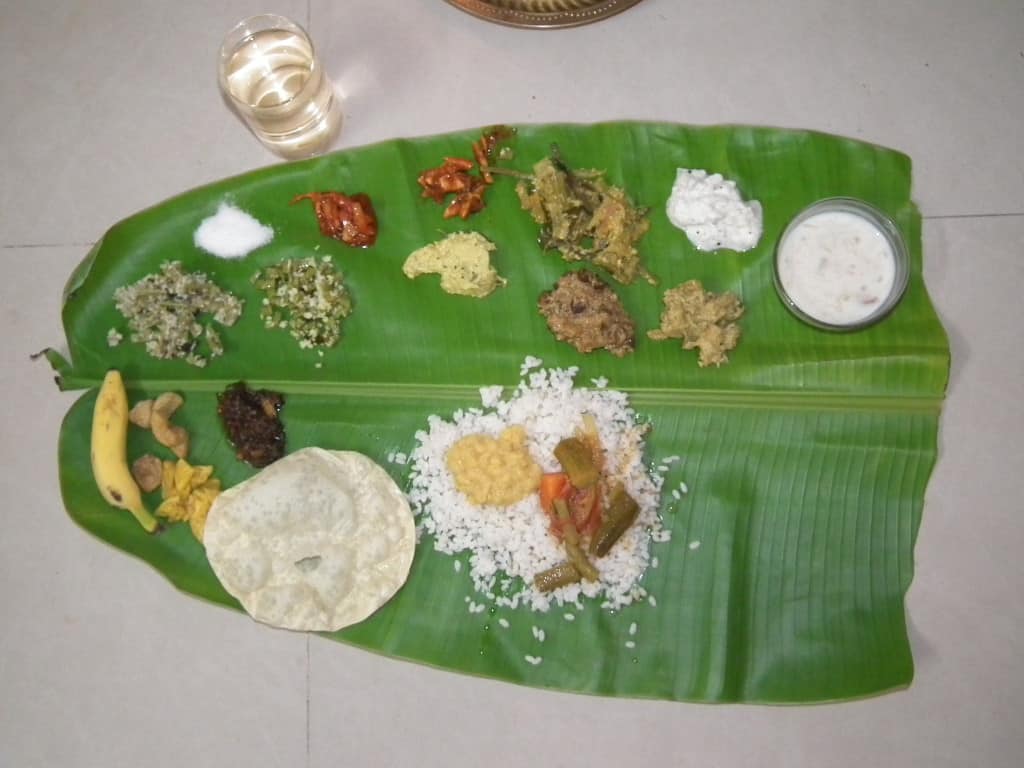 Traditionally served on plantation leaves, the Onam Sadya looks like a humble affair. But don't be fooled! It's an extravagant meal that consists of almost 30 dishes, each lovingly prepared. Some of the key elements of a Sadya include bananas, plain, in the form of chips, and even covered in sweet jaggery and fried (sharkaraveratti). Coconut also features heavily in the Sadya in several forms of spicy vegetables (including thoran, kaalan, olan and avial). Variations of lentil based dishes are also common including the spicy and sour broth called sambar and traditional rasam. Another unusual but lip-smackingly delicious dish is the pineapple puliseri, which is a curry made with the sweet fruit.
The sadya also traditionally includes a range of pickles, chutneys, curd rice and papadums. To finish Payasam is served which is made with milk, jaggery and plenty of sugar. To wash it all down buttermilk is served.
Even if you're not in Kerala you can still enjoy a traditional Onam Sadya at most Malayali restaurants across India. It's an experience not to be missed.