One of the safest places to for a single woman to travel is the remote but gorgeous tourist-friendly Kingdom of Bhutan. The warm hospitality of the locals, the government's agenda of promoting Gross National Happiness over Gross Domestic Product (GDP) and productivity–and its abiding spirituality has a lot to do with this. This formerly isolated Himalayan Kingdom, in its bid to balance sustainable socioeconomic development with environmental conservation to achieve Gross National Happiness (GNH) has set in motion many initiatives to achieve its long-term goals. Look out for the signposts of this wondrous plan as it unspools across the country.
As a solo girl traveler, the only hitch is that you might have to give an undertaking to the Bhutan government that you are traveling alone and that you are responsible for any risk that might come up during a trek. Given the great temptations of Bhutan's Himalayan terrain, the remote but alluring valleys and villages, the only threat you will really face as a solo traveller is from its geography. Do keep in mind that preferring to keep away from the global tourist circuit for decades Bhutan is one of South Asia's least developed countries (LDC). However, as found by the UNDP Human Development Report 2020 Bhutan is ranked highest amongst its LDC peers on overall human development. With some of the more recent (cautionary) innovative development plans now in place, the year 2023 will probably be the year it will graduate from the LDC category. As despite, or perhaps because of, this outlook, the country has experienced impressive growth in the past four decades.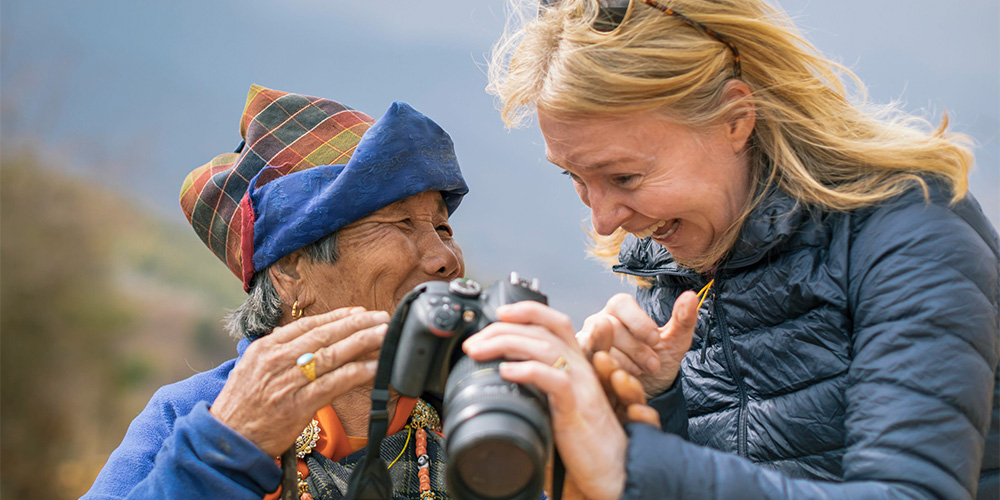 The Bhutanese's government's strict watch over the potential negative impact on the environment (environmental protection having been being enshrined in the constitution) has been the key driver behind its sustainable tourism agenda. This has recently been further underpinned by the raising of the Sustainable Development Fee (SDF) fee. With a total forest area of 72.5%, low carbon emissions, a high level of carbon sequestration and exports of hydroelectricity, Bhutan has earned the privilege of being acknowledged as the only carbon-negative country on Earth.
It is within the framework of this high-value, low-volume tourism outlook that you will, on your travels, observe some of the most wondrous aspects of a country which has held fast to its old traditions and customs, its pristine environment and its glorious natural heritage.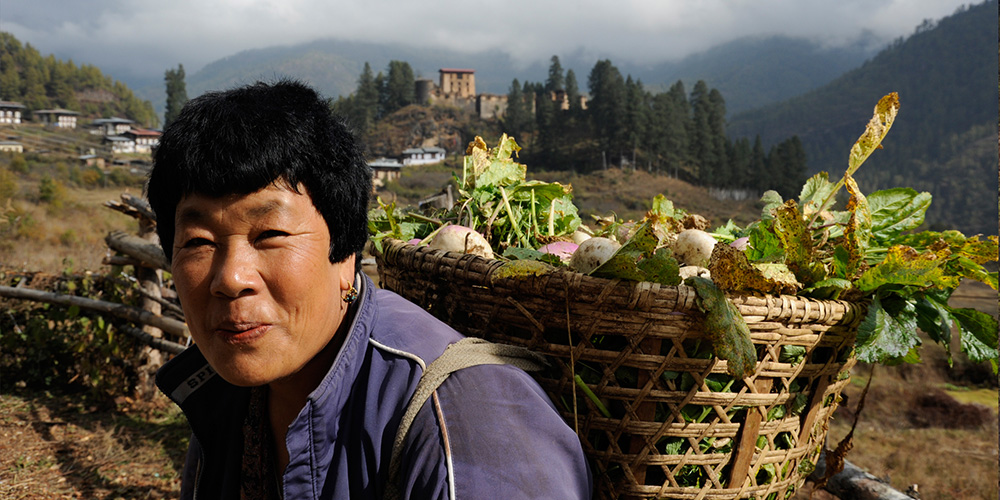 There is a concerted effort to preserve and cherish long-held cultural and religious traditions even through the early childhood years. In Thimphu, as you watch school children and officers set off in the morning in their national dress, it will remind you what a charming example it is of keeping Bhutanese customs and traditions alive. While the primary medium of instruction in primary schools is English, children have to learn to speak, read and write Dzongkha, the official language of Bhutan. Also in 2010, the Ministry of Education launched a massive nation-wide education reform initiative called Educating for Gross National Happiness to be realized through building Green School for Green Bhutan. The goal of the Bhutanese education system is to prepare children to be GNH graduates. Also, kids at a very early age learn about local flora and fauna and how to take care of the environment.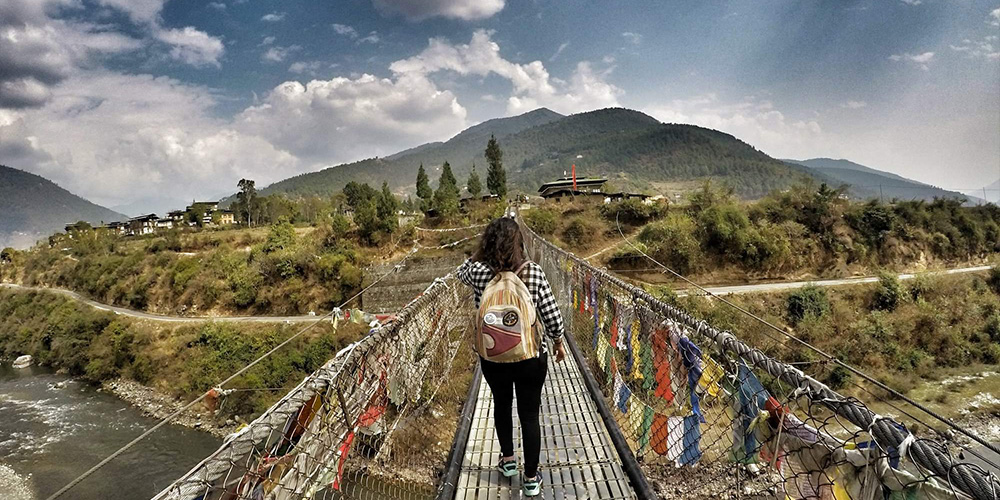 Join the local grannies as they turn the massive prayer wheels and feed the pigeons at the National Memorial Chorten, as part of their daily spiritual rituals. Buddhism is the state religion and everywhere you go this living tradition reflects a critical element in the powerful sense of national identity. Even the unique tradition of phallus worship is no giggling matter here in Bhutan. In Punakha, as you gaze upon the enshrined phallus at Chime Lhakhang, the Temple of Fertility, you will ponder upon the veneration of Lama Drukpa Kuenley the 'mad monk ' who inspired the phallus as a venerated esoteric symbol, to avert the evil eye and bring good luck.
Tread lightly in the footsteps of those ahead of you on the vertiginous track up to Taktsang Monastery of Guru Rinpoche, Tiger's Nest, perched atop a 1200m high cliff, overlooking the gorgeous Paro Valley. This is one of Bhutan's most iconic pilgrimage sites and trekking trails. As your spirts lift with that stunning view, reflect also on how the challenge of this trek can offer so many insightful lessons on life.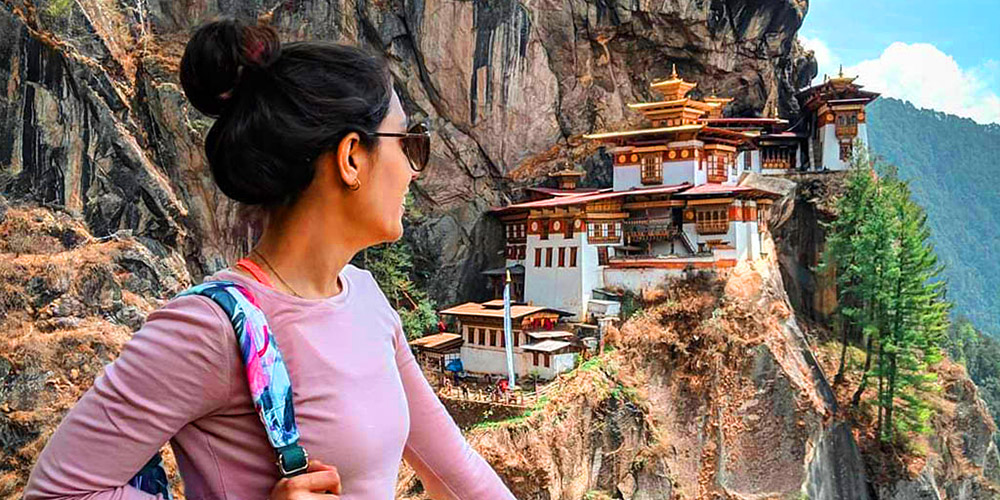 In Punakha, get the thrills of your life, challenging the rapids of the Pho Chu and Mo Chu from aboard your raft as the gorgeous Bhutanese countryside whizzes past in a blur. Later, take selfies near Bhutan's biggest suspension bridge and mark those reflective moments at the stunning Punakha Dzong. Punakha served as Bhutan's First City until 1960, when it was shifted to Thimphu.
A stay at a local farm offers you the best opportunity for a beautiful people-to-people and cultural connection. Living with a Bhutanese farmer's family, joining the farmer in the fields to take part in the routines of a living farm, helping cook and sharing a meal the family kitchen–all this provides some of the most rewarding learning experiences of a new place you are visiting. It wall also shed light on the changes coming in thanks to the government's aim to bring in significant development impacts on livelihoods and the income of smallholder farmers; this will be the outcome of linking tens of thousands of farmers to markets, creating jobs and developing skills, and increasing women's participation in the job market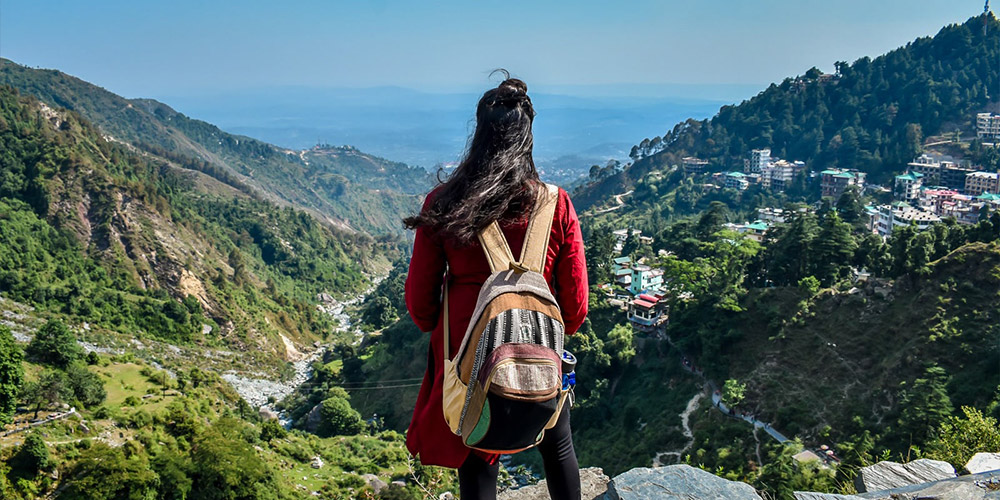 On your way back home, look for sustainable products for souvenirs for friends and family; not only will you be doing your bit for the local economy, you'll also be adding your bit to Bhutan's sustainability tourism success story.
Bhutan offers an array of many exclusive and untapped experiences for single women travelers. Don't take too long to planning your next trip.