Delhi is so much more than just the capital city and power center of India. For centuries it has been conquered, divided and rebuilt, with each new ruler leaving their unique stamp. Wandering through the streets of Delhi you stumble upon overgrown tombs from the Mughal era next to colonial bungalows left by the English and intricately carved havelis. Each piece of its checkered history now gives Delhi its own unique beauty, where the India of old meets the contemporary.
The Best Sights of Delhi
There is so much to see in Delhi, that's it's almost impossible to know where to start, but if you've only got a short time in the capital we'd suggest starting in Old Delhi. Wander through the spice market and lose yourself amidst the scent of cardamom, cinnamon, tea, nutmeg, chilli and more. From there head to the imposing Jama Masjid, the largest mosque in India. Its open forum can hold over ten thousand people, and if you climb to the top of the tower you get a spectacular view across to the Red Fort, which should be your next stop.
The Lal Quila (or Red Fort) is resplendent in shades of crimson, with its high walls stretching out wide protecting the Delhi of old from whatever intruders came its way. Inside you can see what were once  brilliantly jeweled marble palaces. Stop and look around these huge gardens and just imagine what it was like to be one of the Mughal kings here centuries ago. The other must see Mughal masterpiece in Delhi is Humayun's Tomb. With stars sparkling from its red sandstone walls and gates, this tomb rivals the Taj Mahal as one of the finest resting places in India.
If you have time in the evening, don't miss seeing India Gate lit up against the night sky. While the gate itself is glorious, the carnival atmosphere that surrounds it each evening is the perfect way to see Delhi-ites at play.
Where to Eat in Delhi
Eating in Delhi is almost like a religion. You can find everything from the tastiest street food to the finest cuisine in Asia. For succulent kebabs head to Karim's in Old Delhi, and pop into Paranthe Gali while you're in Chandni Chowk for the greatest selection of freshly cooked Indian breads. For the best pain puri without risking Delhi Belly, head to the upmarket suburb of Greater Kailash. Prince's Paan and Chaat Corner has been serving up this crunchy bursts of flavor for decades.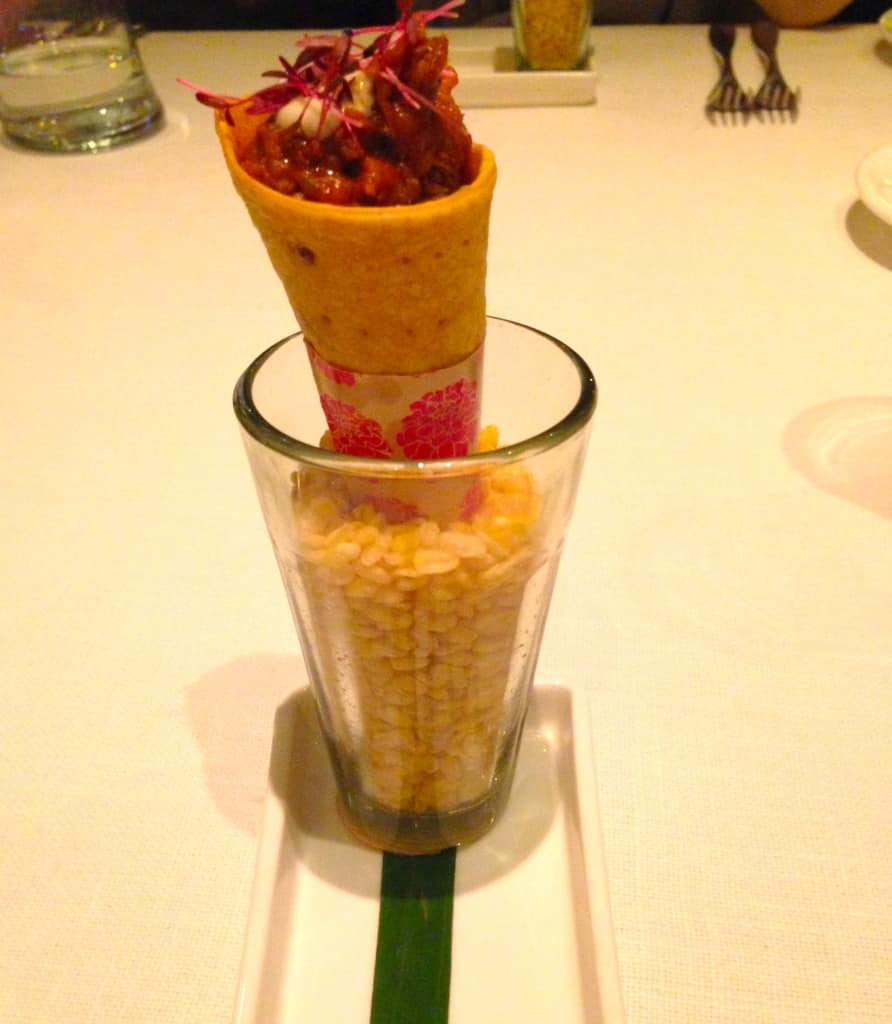 In the evening, spoil yourself at India's best restaurant according to San Pellegrino's Best Asian Restaurant Awards. Indian Accent serves cuisine from around India with a modern twist. Their degustation is a treat that will take your taste buds on a tour from Punjabi butter naan stuffed with the finest blue cheese to malai prawns with wasabi. Don't miss the Duck Khurchan Cornet that simply melts in your mouth.
Where to Shop in Delhi
Delhi is the shopping capital of India, with a wide range of choice of local, luxury and High Street brands. For the best selection of Indian crafts head to Dilli Haat. This market place brings arts, crafts and cuisine from all over India to one location.  Here you can shop for applique cushion covers from Orissa or Hyderabadi Pearls, all while snacking on a Bengalese Telebhaja.
To find something hip and chic you should head to Hauz Khas Village. Also famous for its Mughal tomb, this village has become a creative hub where you can wander through alleyways and dilapidated buildings to find independent young designers, art galleries and hidden cafes. Nearby is the up and coming designer hub of Shahpur Jat that's also worth wandering through, or stop at one of the little coffee shops and people watch to your heart's content.
If you enjoy rummaging for hidden treasure then Sarojini Nagar is the place for you.  With rows of shoes and clothing stalls, this market hosts a large selection of international fashion labels at a reasonable price, especially if you bargain hard. If you get hungry there is also a section of sweet stalls and a fruit and vegetable market nearby.