Back in the day one of the most alluring cities of southern India was the laid back city of Bangalore. Its reputation as the 'Garden City of India' had senior citizens, on the verge of retirements, arrive like lemmings to this wondrous botanical haven, where life could be lived out measuring those days with coffee spoons and rounds on the golf course.
With its wide avenues and classical and Gothic-inspired bungalows, set in flower bedecked gardens and welcoming verandas draped in curtains of lowering bougainvillea's, it was a gracious retreat for bureaucrats and armed forces personnel.
Though the city has transformed into a frantic IT, commerce driven, pub-hopping hub for its burgeoning youth populace, you can still find pockets of old Bangalore in India's 'Silicon Valley' which will lure you back to those halcyon days.
Holding back the advance of the concrete jungle, which has stemmed from the growth of the city's new avatar, are some of the most beautiful botanical spaces in urban India.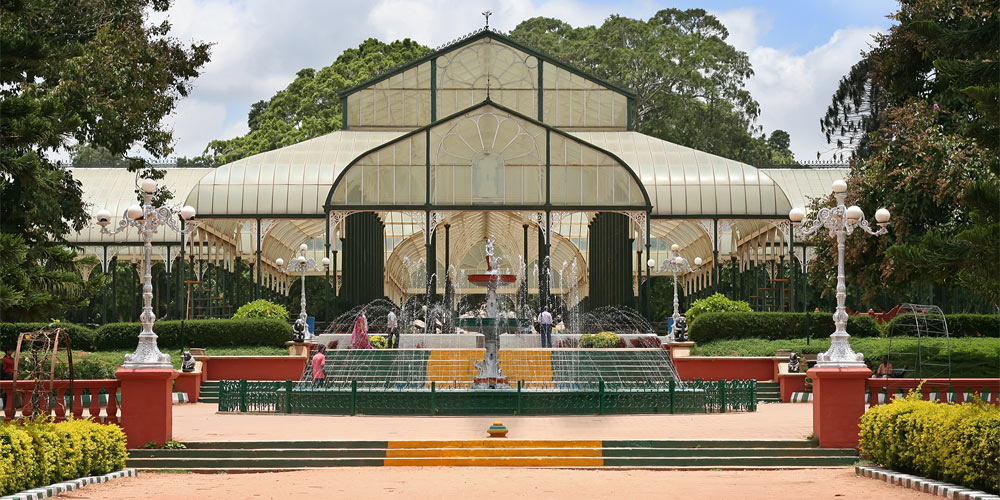 Lalbagh with in its gorgeous green expanses encourages you to spin back to the laid-back atmospherics of the pre-IT days city. Once the pleasure garden of a sultan and royal garden of Mysore rulers, with British rule it was shaped by professional European horticulturists into a fabulous botanical parkas you take a leisurely guide tour of the garden you will learn all about the amazing number of exotic trees that were imported from around the world to create this mighty green lung of the city. You can also spend some time marvelling at one of the oldest rock formations in South Asia located here. The pillared rocky edifice, known as mandapam, now declared a national Geological Monument, was erected here in the mid-16th century by Kempe Gowda, the founding father of Bangalore who was once a close aide of the Krishnadevaraya, King of Vijayanagara Empire. The rock itself is believed to date back 3000 million years.
It's no surprise that Lalbagh is a magnet for walkers, joggers and nature buffs. It was ruler Haider Ali, who from his childhood had a great affinity with nature who set about establishing Lalbagh in 1760 when he was in power. Lalbagh's botanical wealth is powered by plant and tree species from Australia, Malaysia, the Caribbean, Brazil, the Americas, China, Europe, Africa and many other countries There are at least over 1,800 species of plants and several water bodies where one can rejuvenate oneself just water gazing. What's lovely is that the garden is a big draw for many species of avifauna, making it a birder's paradise as well. Other attractions are the aquarium and the glasshouse, which serves as a venue for the annual flower show.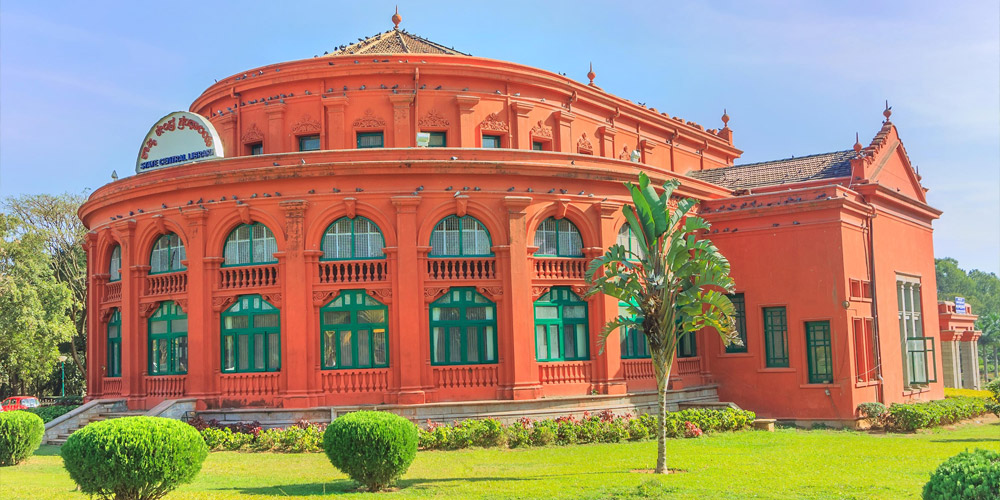 Bangalore's Cubbon Park, name after Sir Mark Cubbon the British Commissioner of Mysore state, is another splendid landscaped green lung which is also closely intertwined with the city's colonial times. Commissioned by Sri John Meade, the then acting Commissioner of Mysore in 1870 designed and executed by Major General Richard Sankey, the Chief Engineer of the Mysore State. Known as the Sri. Chamarajendra Park since 1927 when it was commemorated the Silver Jubilee of Sri. Krishnaraja Wodeyar's rule in Mysore State this lovely leisure space is a haven of delights for both the city residents and visitors passing through town. Home to over 6000 species of plants its other attractions are the lotus pond and the musical fountain. Also, the Bangalore Aquarium here is the second largest aquarium in India.
Signposts of its colonial days are scattered across these sylvan spaces as marble statues of five important luminaries linked to those times with the garden city: Queen Victoria (1906), King Edward VII (1919), Raja Chamarajendra Wodeyar (1927), Dewan Seshadri Iyer (1913) and Sir Mark Cubbon. The majestic bandstand, which served as a popular entertainment venue for the British, hosts many cultural programmes even today. Also accessible from these lovely verdant spaces are important admin hot spots in the city such as the Vidhana Soudha State Legislature building, the High Court Buildings, Cubbon Park Museum, Attara Kacheri, and Seshadri Iyer Memorial Park and several other structures associated with the city administration.
Other parks in the city where you can spend some rewarding rejuvenating moment are the Butterfly Park on the Bannerghata Zoological Park Road, the Lumbini Gardens for their tranquil Buddhist ambience and the Indira Gandhi Musical Fountain Park on Raj Bhavan Road.