The principle of high-value, low-impact tourism development, which has been guiding tourism's growth, has contributed immensely to the unique tourism brand of Bhutan. It's no surprise that the country ranks very high on the list for the environment-conscious traveler, given that even as the country cautiously opened up to tourism, it was very conscious about controlling the type and quantity of tourism it would follow.
Centenary Farmers Market Wander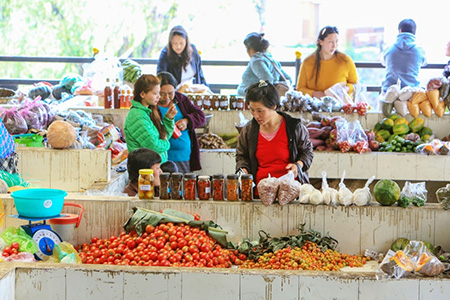 You will love the great atmospherics of cultural delights as Bhutan urban space and rural landscape find common ground in this lively farmers' market. Every week vendors from as far as Lingshi in the north and Dagana bring their produce to the market. Over 400 shops offer an amazing range of local produce and goods from the countryside, thus opening up a small window on the country's commercial and socio-economic workings- and an opportunity to purchase a souvenir or two to take home for family and friends. From local wines to cheeses, from unique vegetables to varieties of local rice, from handmade wovens to beautiful jewelry, there's plenty to catch your fancy here. Plunge into the fun of photos, bargaining, sampling of wares, interactions with the farmers and buying of items of choice such as the local pure honey, dried cheese, Boyo zaw (puffed rice), zaw (roasted rice), Mekhu (Crispy rice crackers), kabchi (roasted, ground wheat) and kharang (pounded maize).
Ara Making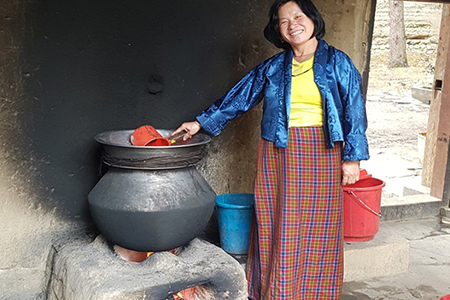 Join a local farmer to learn all about the fine art of making the local brew 'ara'. Most homes will offer you a glass of this homemade alcoholic brew as an extension of their warm hospitality. Your host will show you the ropes with hands-on lessons on the different processes of ara-making. Most homes have their favorite recipes, and your kind host will share his secret recipe at his home. Made from rice, millet, or wheat, Ara can be fermented or distilled. A popular beverage enjoyed on many social occasions, this much-loved local tipple is carried and stored in handcrafted wood and silver containers. As you go about the business of ara-making, you will get some great insights into your host's daily life and the stories about ara and how he prefers to make only the most authentic and best quality version of this traditional alcoholic beverage of Bhutan.
On your travels around gorgeous Bhutan, be mindful of the fact that, for this small landlocked country, tourism plays a pivotal role in generating employment opportunities and revenue. So, eat local, buy local and experience local in every which way you can.